Creating a Craft Room #1: Ideas
This post contains affiliate links. Read my full disclosure.
Welcome to the first installment of my "Creating a Craft Room" series, which chronicles the transition of my craft area from the corner of the living room to a 12′ x 13′ room upstairs. It's a journey, I tell ya. An epic tale of heroism and Band-aids, but fun nonetheless.
The Before Shot
Well, it *was* one of the kiddo's bedrooms, and our eldest moved out last year to join the Navy. My husband then converted it to a weightlifting/leatherworking shop, the "indoor mancave", if you will.
But, he started a new job in the fall and had less time to devote to his craft. So, in December we decided to trade spaces since my crafting area had reached critical mass.
Here's the room as it is now.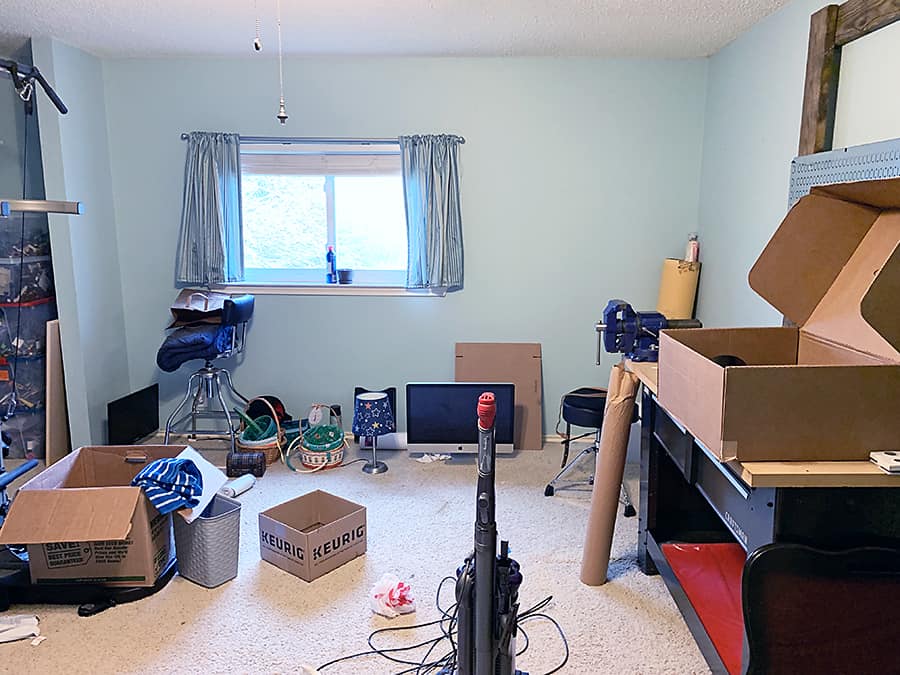 I would love to put down some dark flooring and repaint the walls, but time doesn't permit it. So, I'm stuck with cream colored carpet and light blue walls… and I am ECSTATIC about it!
Ideas On How To Decorate
I've been collecting ideas for my dream craft room on Pinterest for years, and I finally have the chance to use some of them. Or, something inspired by them, hopefully!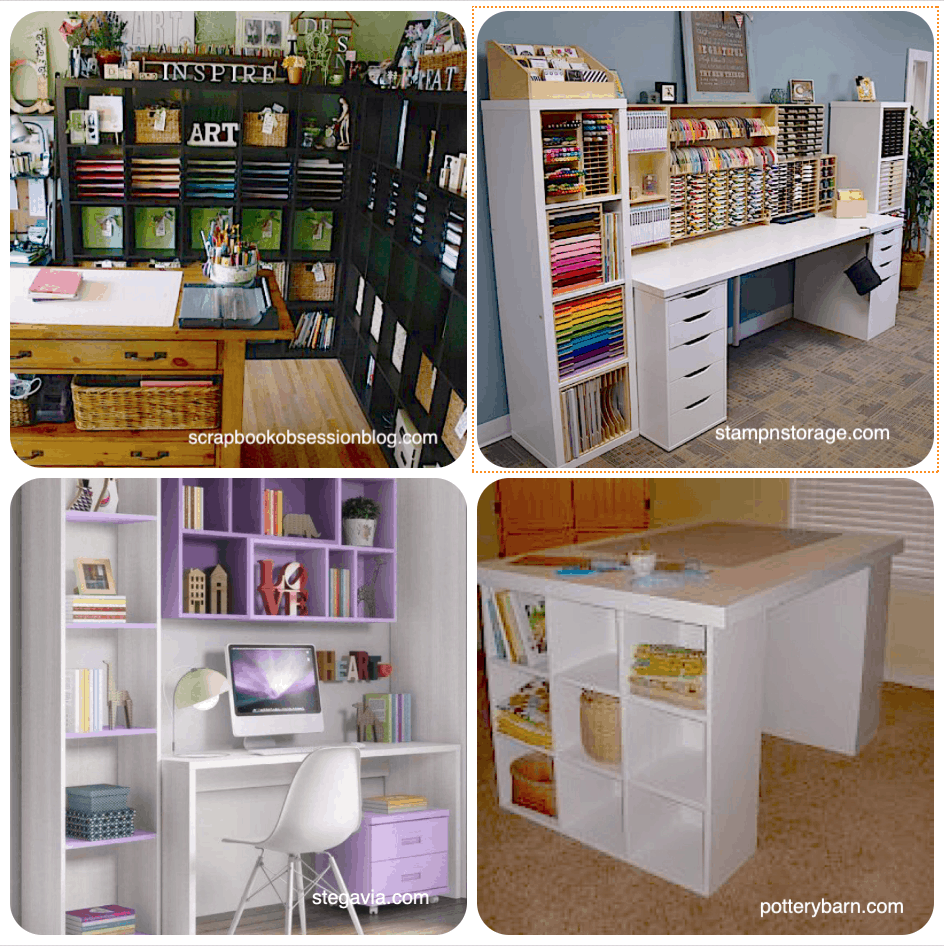 But first, I needed to gather ideas about the color scheme since part of my palette is already chosen for me.
I did a quick Google search for light blue rooms and I found this gem. I have some black furniture and I want to add a touch of gray in my room too, so I thought this photo would be great for color inspiration! Even the floor is kind of beige-y, just like the carpet in my area.
I spent a weekend hunting for some peacock blue/teal/turquoise decor items to pull together the look, and I found this amazing chair! I love it so much, and it rolls like a champ over the carpet.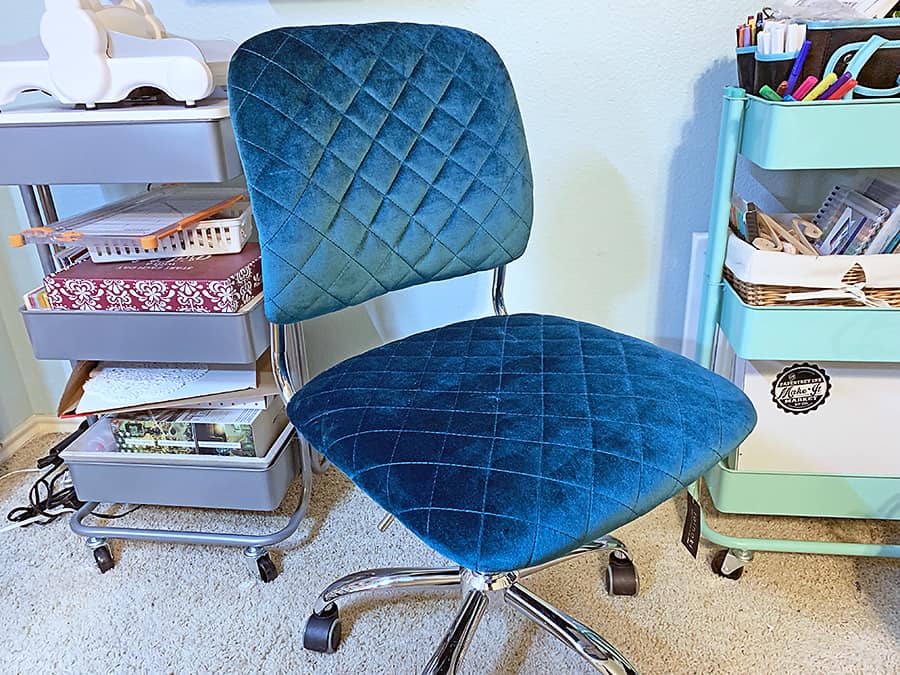 With some pieces found, I sketched out the layout I was imagining. This isn't anywhere near to scale – the furniture is much larger in real life. Except for the computer desk, I got that right 🙂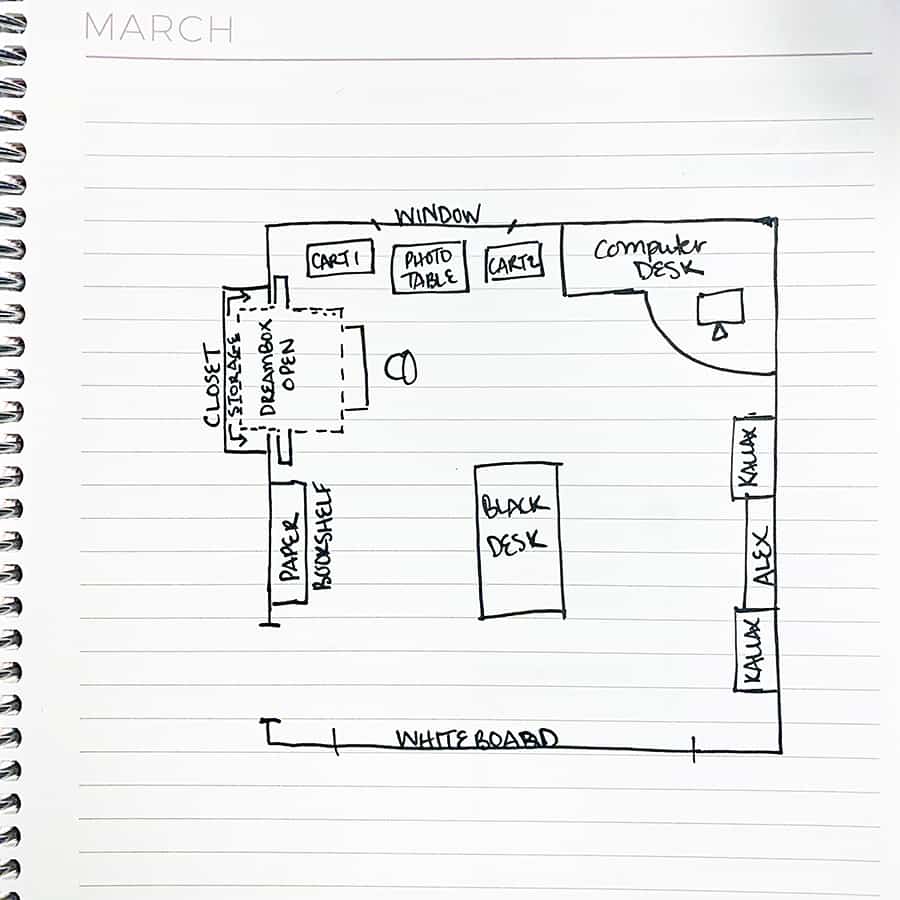 The closet is a recessed open space with no doors, and I wanted some storage in there. So, I did something I have wanted to do for years. It soaked up almost all my budget in its entirety, but I purchased a DreamBox from The Original Scrapbox to upgrade my current storage and sink into the closet space. It's much bigger than I thought, but it fit like a glove.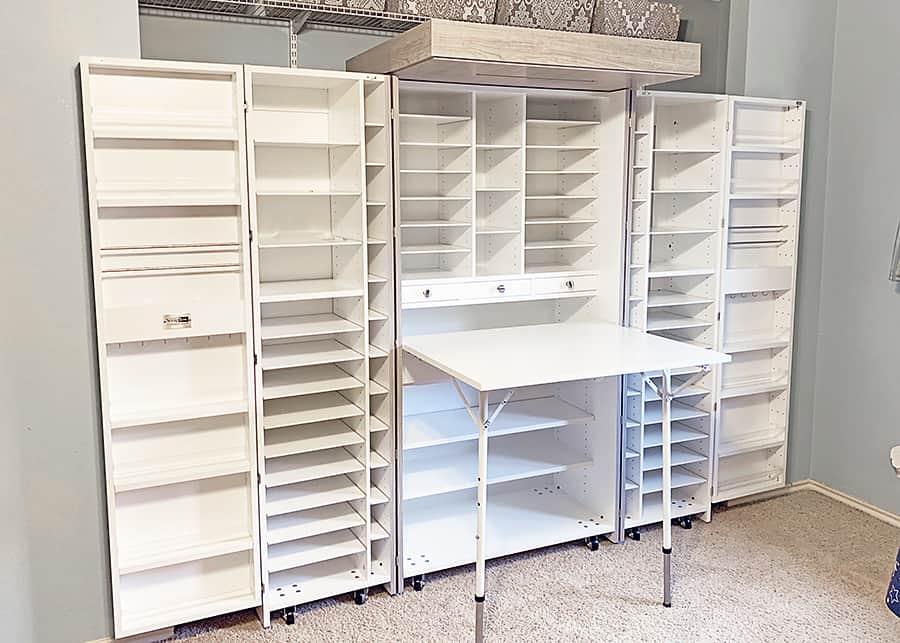 Tune in later this week as I regale you the tale of the Great DreamBox Build of 2019, and thanks for following along in my journey as I'm creating my craft room!
In the meantime, I'd love to hear your ideas on colors, layout, or your favorite storage solutions! Post'em in the comments below!