Garam Masala Spice Mix Recipe
This post contains affiliate links. Read my full disclosure.
The worst thing about posting this garam masala spice mix recipe is for you to find it, I need to write at least a tiny little origin story. Don't worry about having to scroll to the bottom, though. I promise I'll keep it short!
Way back in the year of our lord, two thousand and twelve, a decent garam masala spice mix was near impossible to find here in San Antonio at HEB. I would need to drive across town to the Indian market to get the real thing.
Honestly, at the time I wasn't cooking a ton of Indian food, so the big containers of garam masala they had there would eventually go stale in my cupboard.
So one day, I decided to consult the Google machine about making a garam masala spice mix recipe. I tried a few different concoctions before I settled on the mix you'll find below. It's an excellent substitute for garam masala if you can't get your hands on the real thing.
Or if you just don't wanna grind whole spices.

What's in a Garam Masala Spice Mix?
It's different for each family, really. In general, though, it's usually a mix of:
Cumin
Cardamom
Coriander
Cinnamon
Cloves
Nutmeg
Pepper
Sometimes, you'll also find ingredients like stoneflower or black cardamom, too.
The traditional way of making spice mixes is to toast the whole spices and then grind them all together into a fine powder. But, if you don't have the time or gear, buying and mixing ground spices is a good runner up.
In fact, try swapping out the cumin, coriander, and cinnamon for the roasted varieties for a more authentic flavor. You can find them pre-ground at your local grocery store, or click to find them on Amazon:
Happy cookin'!
Garam Masala Spice Mix
This is my family's version of an Indian spice blend. Use in any recipe that calls for garam masala.
Print Recipe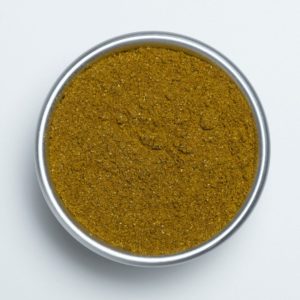 Equipment
1

Spice Bottle

Can be airtight glass or plastic, but glass is best.
Instructions
Mix all ingredients in a small bowl. Transfer to an airtight container and store in a cool, dry place.