Cute and Colorful Fringed Fiesta Flowers Wreath
This post contains affiliate links. Read my full disclosure.
It's Fiesta time here in San Antonio! One of my favorite things about Fiesta is the colorful decorations. Many people adorn their houses and businesses with brightly colored fiesta flowers, wreaths, and streamers.
For those of you not familiar with our Texas-sized parties down here, Fiesta began as a way to honor the memory of the heroes of the Alamo and the Battle of San Jacinto, and since then, has grown to include celebrations of San Antonio's rich and diverse cultures.
It's a pretty big deal around here – but if you missed it, you need to put a visit to San Antonio on your to-do list for around this time next year.
I have an 8×8 scrapbook page stand from Michaels and make pages for each season. I can flip through them during the year to match the current theme.
Edited to add: The 8×8 stand is retired, but you can still find the 12×12 version (which I have linked below in the Supply section).
Earlier this week, I decided I needed to make a Fiesta wreath to add to the stack.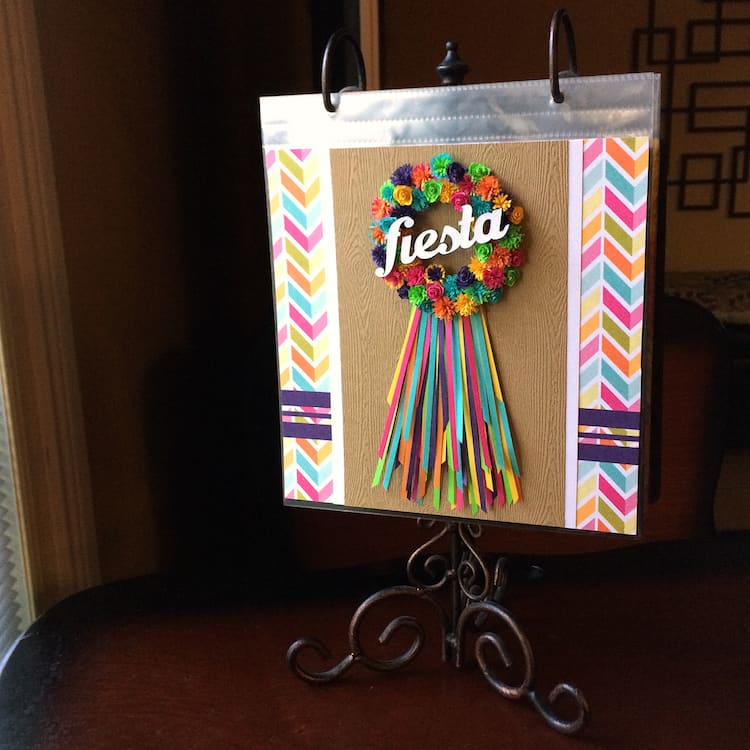 This wreath resembles what you'd find on people's front doors. I made mine out of quilling paper, so it's smaller than the usual fare 🙂
To start, I cut an open circle with two circle dies, to make a donut-shaped backing to group my flowers. I used 3/8″ (10mm) quilling paper for the fringed flowers.
You can fringe the strips a couple of different ways – with a fringer, which is faster (if the darn paper stays straight in the machine). Or you can use detail scissors (I will guarantee your hand will cramp at least once, but the fringes and the flowers look much neater).
For this project, I had to use a fringer because of how much paper I needed to cut. All the flowers are 5″ length strips rolled with an ultra-fine slotted tool.
For the fringed flowers with two colors, I tore my 5″ pieces in half and swapped colors, glued them back into 5″ strips, rolled them up and opened them.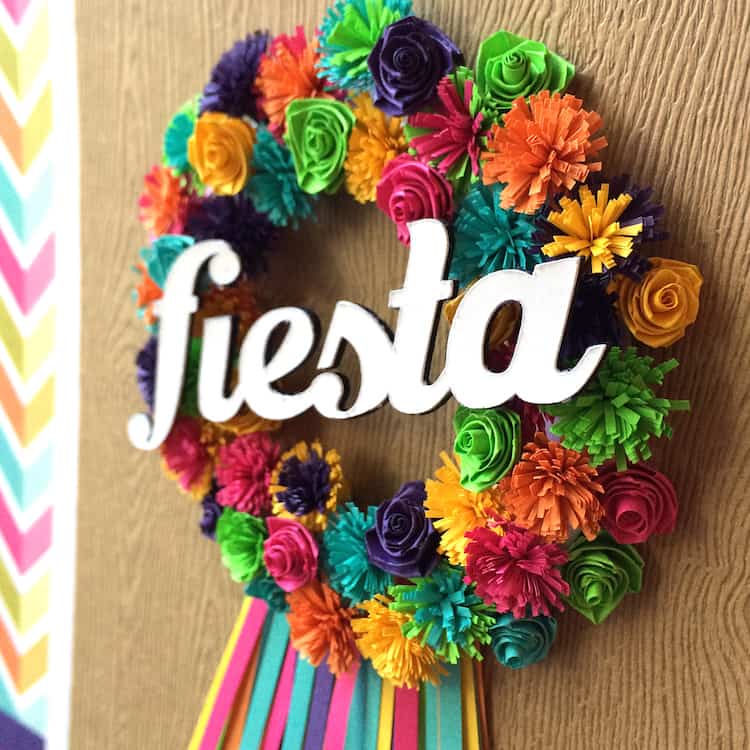 The roses are done very much like you would make ribbon roses. It's rather difficult to explain how to make these without a video visual aid. Luckily, I have one!
Just know that you do not need to keep the base of the rose tight to the tool. Roll it as best you can, slide it off, adjust and loosen it until it's all pretty, then glue it. I do all my roses like that 😉
The ribbons on the wreath are 1/8″ (3mm) quilling paper cut in various lengths. You can flag the ends of these if you're all fancy like that, or just snip them however you like. Most ribbons I see on Fiesta wreaths are just squared off on the bottom, but I cut mine on an angle for a little more interest.
I used my Silhouette CAMEO to cut out the "fiesta" letters. The entire word is about 2.85″ wide, and the font is called Marmellata Jam. I had to ungroup the letters and shuffle the 'ta' over to touch off the 's' to weld the letters together correctly.
If you'd like the file I used, you can find it here: Fiesta Word SVG
I cut it twice – once with black cardstock and once with white. I did that to ensure I got at least one immaculate cut in white; skinny parts like the bottom of the 's' make me nervous when I'm pulling them off the sticky mat. I've ripped way too many.
The reason for the black layers is to give the word a little more definition. Also, it saves me from breaking out the black Sharpie for the edges.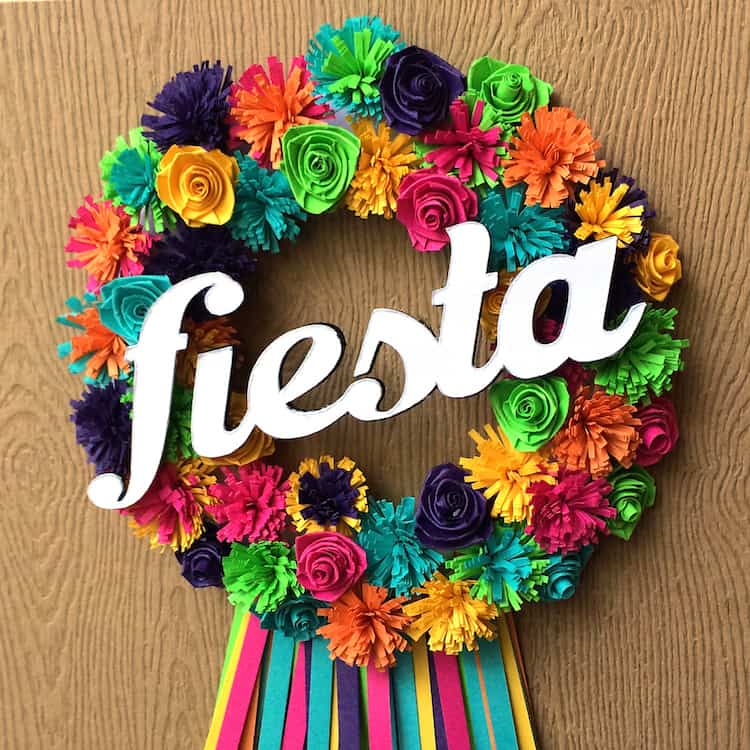 I glued two black cuts together and then layered one white piece on top of them. This helped me create a beautiful, sturdy die cut.
Then, I used some super fine tweezers to clean up the corners as best I could before adhering with a few thick dabs of glue. This ensures I got good contact with the fringed edges of the flowers.
To mat my wreath, I used a patterned background from Papertrey Ink's Sparkle & Shine paper collection. But of course, any colorful paper will do 🙂
For balance, I added a few strips of Purple quilling paper in 3/8″ (10mm) and 1/8″ (3mm). These are about two inches up from the bottom edge. Then, I layered on a 6×8″ piece of white cardstock, followed by the woodgrain paper.
I used my tape gun to adhere the wreath to the paper. Instead of tucking it inside the page protectors on my display, I simply taped it to the front of the protector with double-sided tape. That way, everyone can enjoy those fabulous Fiesta colors.