Drawing Card Inspiration From a T-shirt
This post contains affiliate links. Read my full disclosure.
One of the challenges from Papertrey Ink called for us to choose a piece of clothing from our closet and use it as inspiration to create a card. Well, I was too lazy to walk upstairs and rummage, so I just chose to use the T-shirt I was wearing.
Stripes! That works.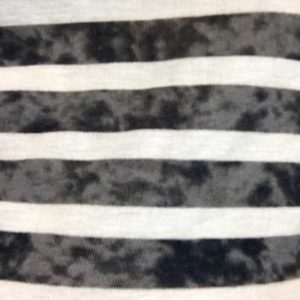 Since I knew I was going to be using water, I picked out a piece of watercolor paper to work on so I wouldn't have to deal with the paper warping or pilling.
You don't need the expensive kind of watercolor paper for this – we're just working with Distress Ink and Color Shine.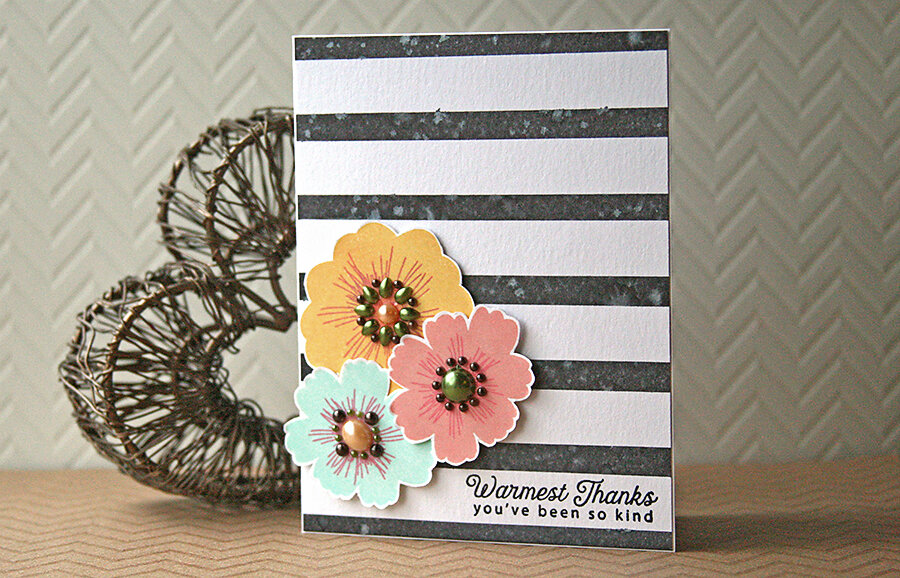 Mask off the areas you do not want ink on. I used Post-It tape and the grid from my craft mat to line them up.
Blend ink in from the sides using Distress Ink and an ink blending tool, starting off the card panel and working your way on to create an even layer of ink.
With the tape still on, spritz lightly with water and allow the ink to move around to create a mottled look. If you want, you can touch it with a tissue while it's still wet to lift the ink where the water is. Wait until it is dry to the touch before moving to the next step.
Unscrew your metallic shine spray cap and gently tap a few splats around your card with the suction tube (like tapping paint from a paintbrush). Let it dry.
Carefully peel away the masking paper, stamp sentiment and embellish as desired.
For the flowers, stamp them with dye ink, and fussy cut them out. To add a little dimension, pop them up with foam squares and add some bling (I adhered some fancy flower centers).
Edit: The PTI stamp set I used for this card (Bloomers) is no longer available, But I linked a similar one for you below.
Drawing card inspiration from a T-shirt (or any piece of clothing!) can make for some pretty exciting projects. Try using your current top to make a card!
If you liked this post, please share the love by pinning to Pinterest. Thanks for reading & have a great day!