Creepy Cabinet + Nuvo Aqua Flow Pens
This post contains affiliate links. Read my full disclosure.
Happy Saturday! I have a card to share with you today that features a creepy cabinet design by The Hedgehog Hollow's very own Amber Brady.
In the October Subscription Box, there's a stack of neatly tied watercolor cards. I liked the creepy cabinet in the stack so much, I decided to color it right away.
Since it's printed on watercolor paper, Nuvo Aqua Flow Pens were the order of the day. If you're not sure what these pens can do, take a look at this post by Betz Golden. It's full of good info!
Painting With Aqua Flow Pens
To start, I trimmed 1/8th of an inch off each side of the watercolor paper to make it fit nicely on the brown cardstock that comes in the October box as well.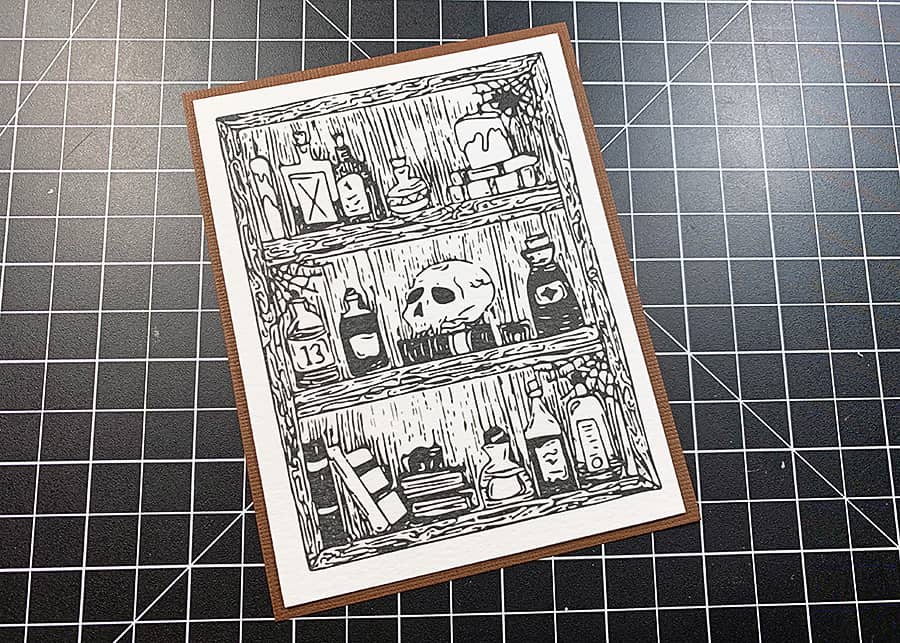 You can paint directly on the watercolor paper with Aqua Flow Pens, but I chose to dilute the pigment for some parts of the design. I just scribbled the color pen on an acrylic block I had nearby and used an Aqua Flow Water Brush to add the color to the paper.
I'm not mixing in green here, just diluting Rustic Oak for the outer shelves – my water brush is stained with love 🙂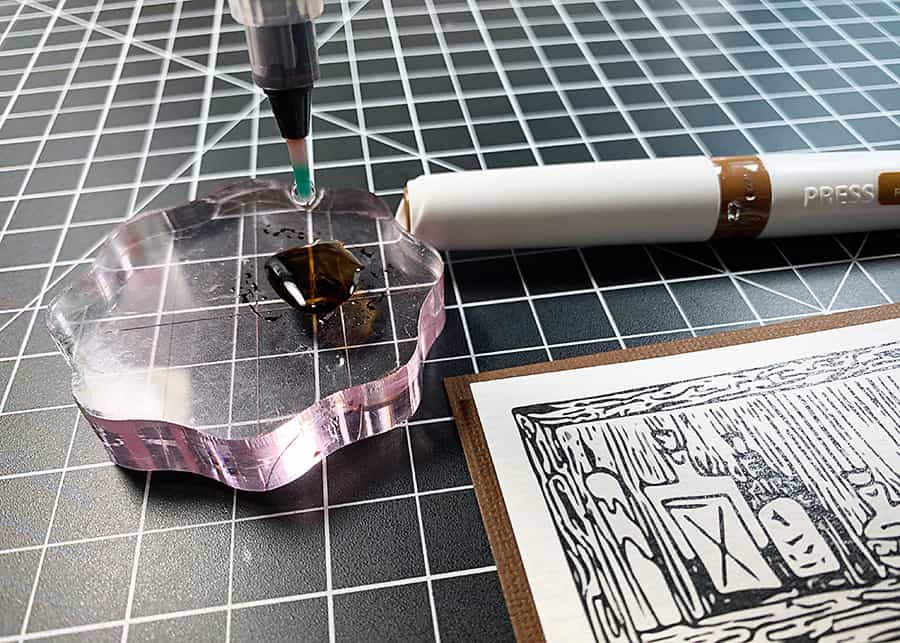 For darker areas, I used the pens full strength and blended directly on the watercolor paper to create shadowed areas like under the cabinet shelves and in between books.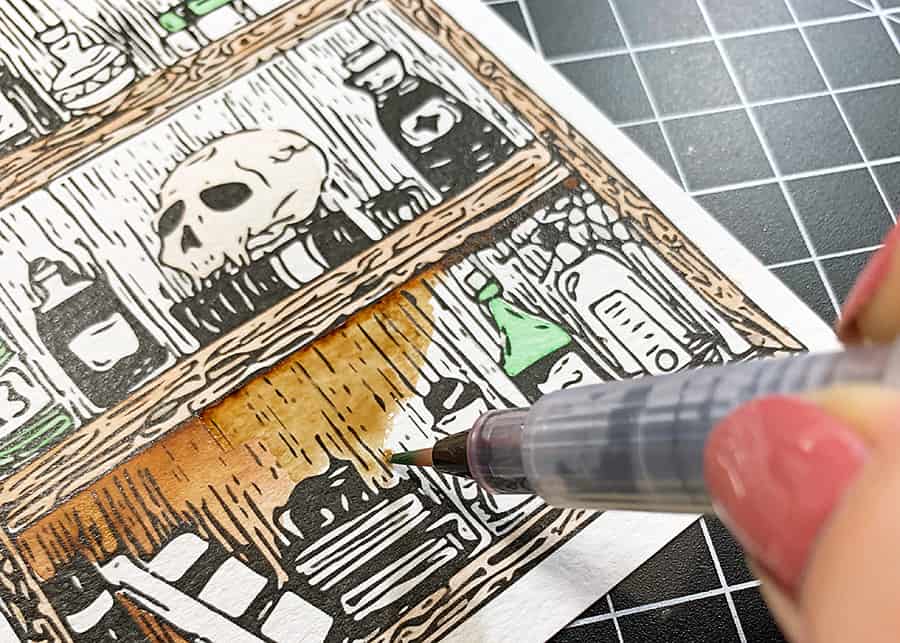 Then, I used a combination of pens and water to color all the items on the shelves:
Evergreen Fern + water for bottles
Rustic Oak + water for outer shelves, direct to paper and blended with water brush for inner shelves
Cinnamon Stick + water for the skull, direct to paper for candle and corks
French Wine + water for bottles and books
Obsidian Black + water for bottles, books, and labels
Spiced Ginger + Rustic Oak + water for labels and book
I also added a little shine to one bottle on the top shelf with a Gold Nuvo Creative Pen, since I'm pretty sure I've seen a bottle like that somewhere before 😉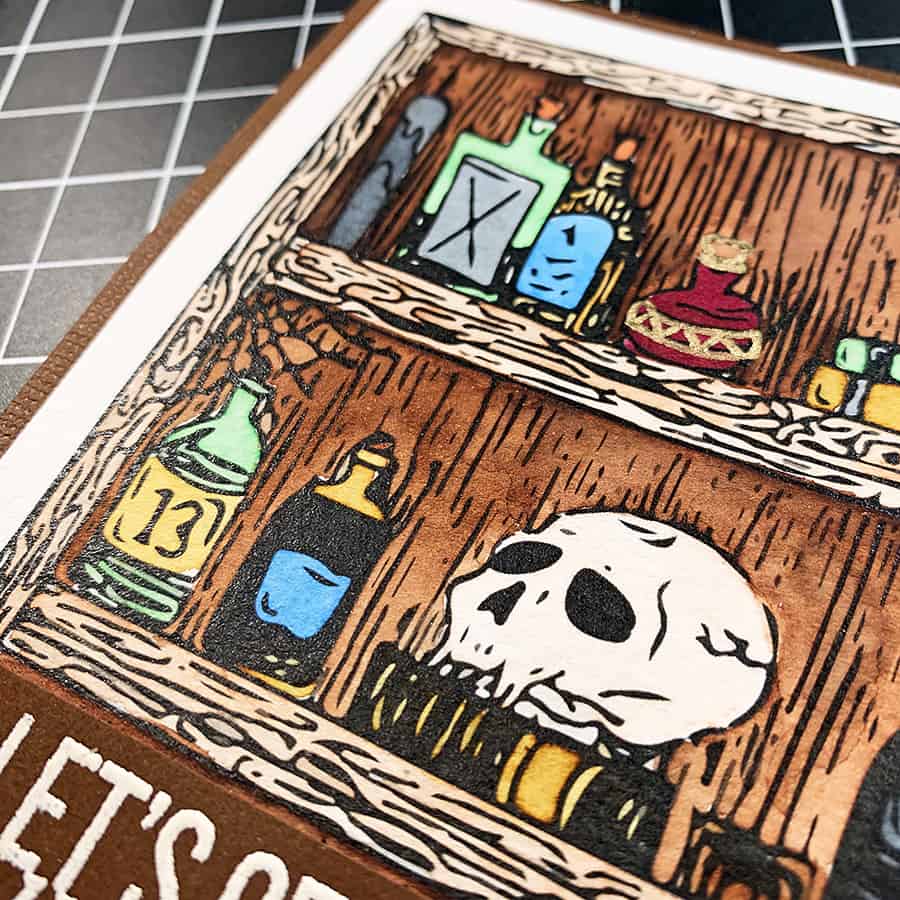 Putting It All Together
The sentiment I chose comes from the Halloweird stamp set in the kit. I didn't have any extra brown cardstock, so instead of wasting the center of the piece that was going to be covered anyway, I cut the middle out with a Cricut TrueControl craft knife.
Then, I adhered the watercolored panel like usual. Who says you can't have your cake and eat it too?!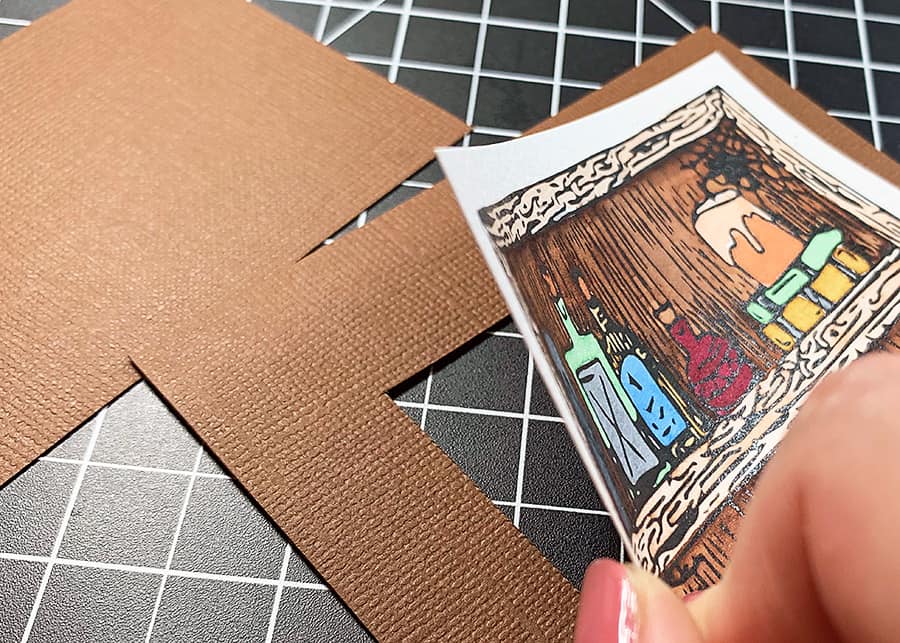 After I squared up the edges of the little cardstock piece, I flipped it over to the less textured side and used Nuvo Clear Mark and Vintage Pearl embossing powder to heat emboss the sentiment.
I added a cute Doodlebug Designs spider brad that came in the box too, then attached the sentiment to the card front with foam squares. And finally, I popped the card front on to an A2 card base with Tonic Funky Tape.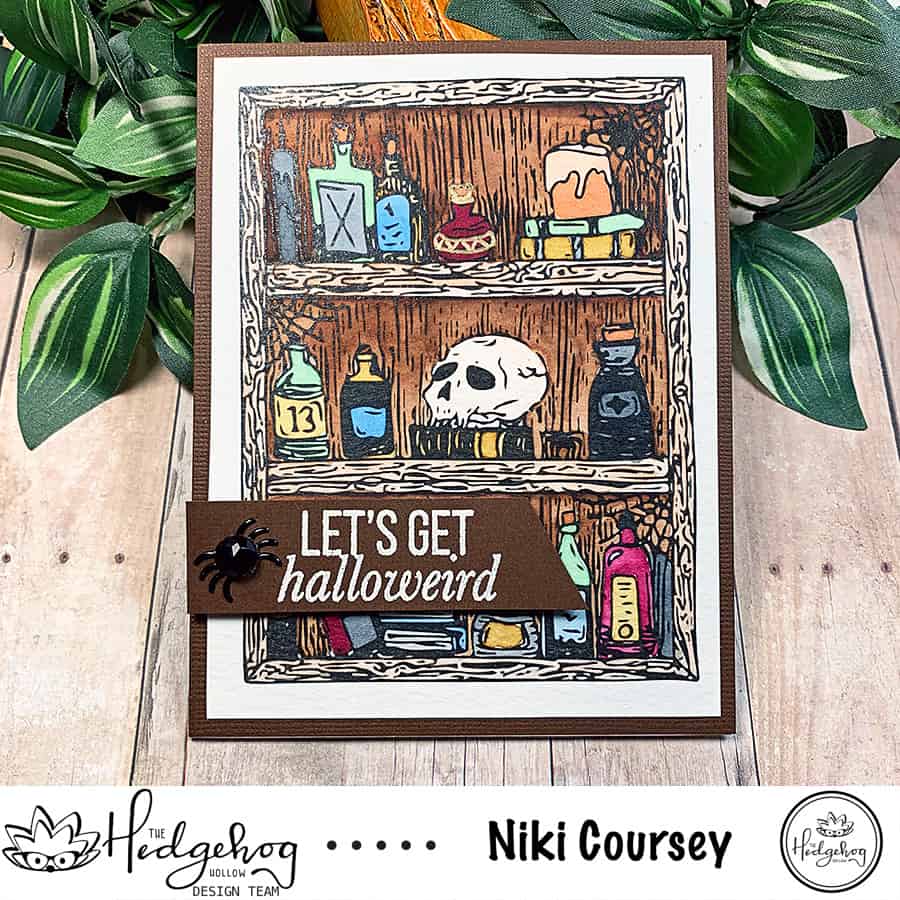 Thanks so much for reading today! Don't forget to take a look at Betz's post that I linked above and be sure to explore all the Inktoberfest festivities on The HedgeHog Hollow blog.
Happy crafting!
PS – Here's another Halloween card you might like!