Monochromatic Gift Card Holder for New Years
This post contains affiliate links. Read my full disclosure.
I have a friend who throws a New Year's Eve party each year, and I always give her a Starbucks gift card instead of a hostess gift. Partly because she LOVES a good caramel macchiato, but mostly because I have no idea what I would bring her otherwise 🙂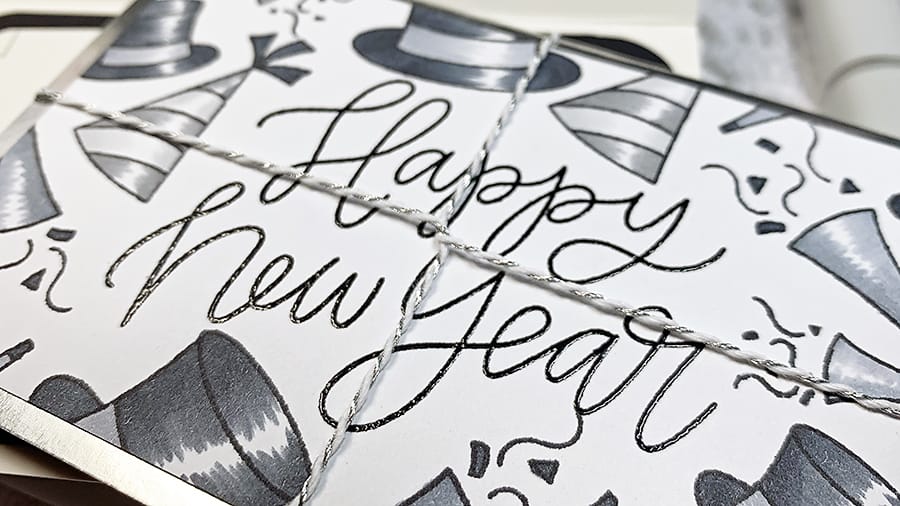 I used the cute hats and noisemakers from the stamp set in the Hedgehog Hollow December Box, along the Happy New Year die to put this monochromatic gift card holder together. Actually, I made two as I was going along since the scraps of the first were big enough to make the second.
To start, I cut two pieces of black cardstock into 2-1/2" x 4" rectangles and rounded the corners. I had a Gift Card Slot die in my stash that will cut notches to hold gift cards, so I used that along with a Sizzix Sidekick to be able to tuck my cards inside the little holder when it's finished.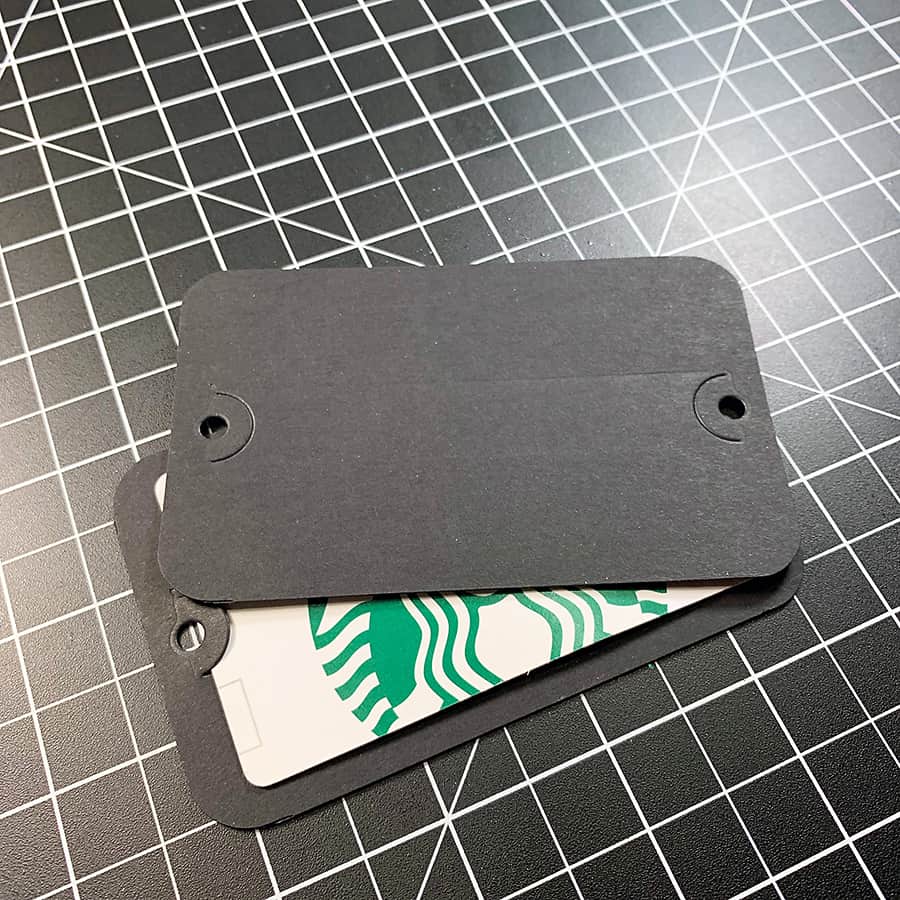 Next, I scored a 5-1/2 x 4-1/4 piece of the mirror cardstock from the box (which I am LOVING lately, by the way) down the center and folded it over to round the two bottom corners.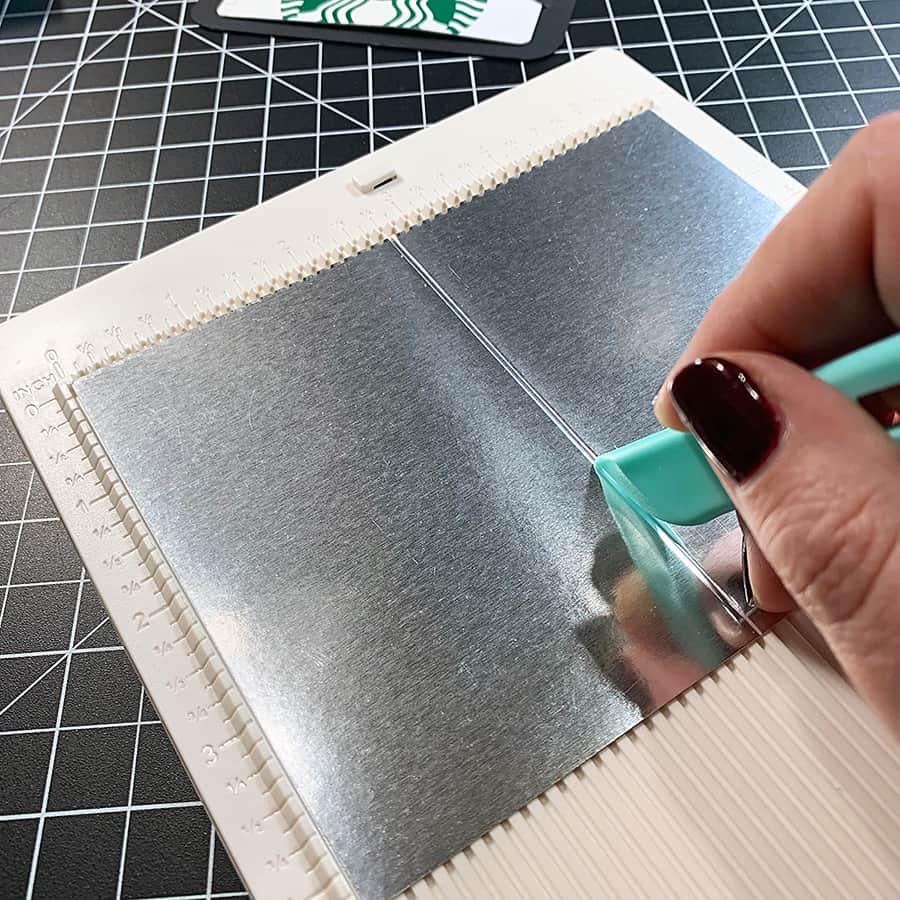 Then, I found a couple of lengths of silver baker's twine and threaded it through the holes in the black cardstock, and attached those pieces to the inside of the mirror cardstock folder.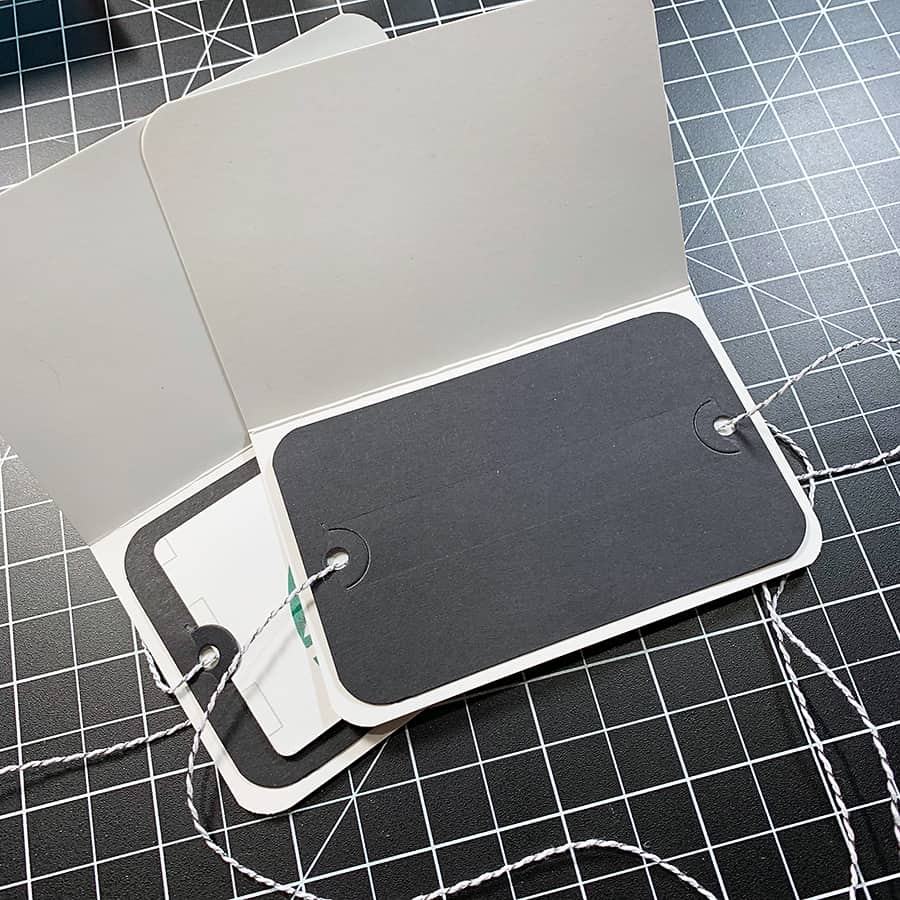 To make the front, I stamped the sentiment in Versafine Onyx Black and heat embossed with clear embossing powder. Then, I stamped the fun party images all around it with Memento in Tuxedo Black.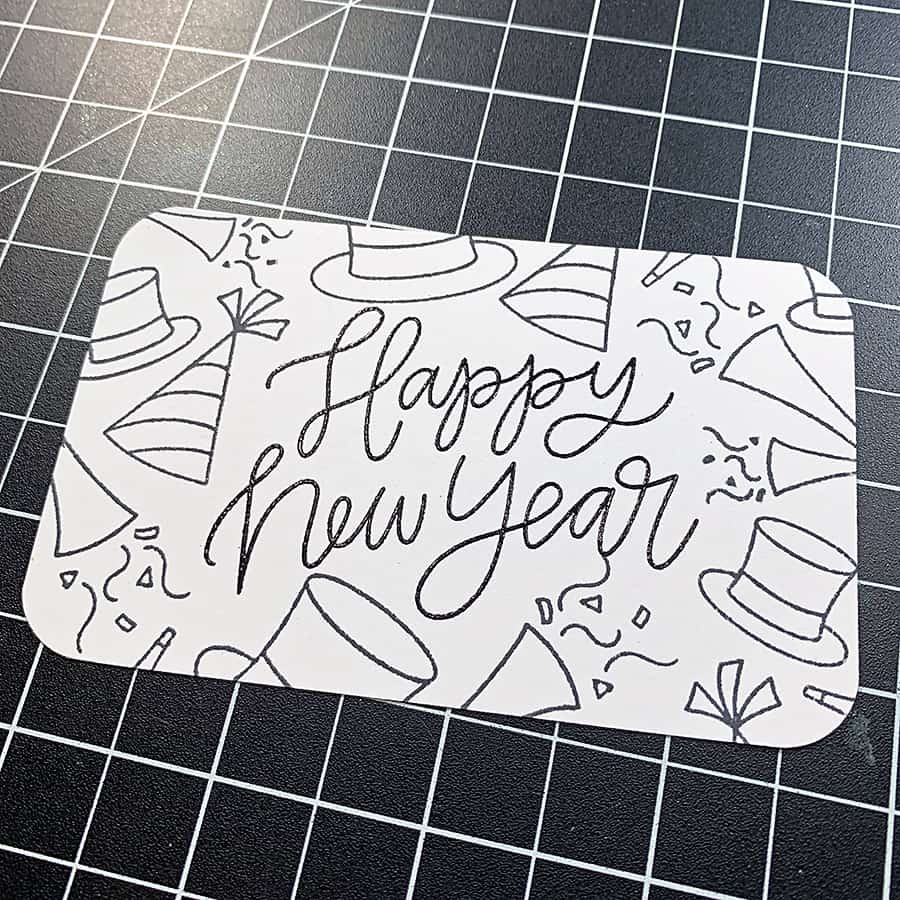 To color in the images, I used a mix of Copic Sketch markers in neutral and cool grays since I wanted to create a monochromatic theme with a shiny look. To get that neat silvery effect, all you need to do is fill in the images by flicking your marker tip from the edges toward the area where you want the shine to be.
Copic List:
Top Hats – C7, C3
Party Hats – N1, N3, C7
Large Noisemakers – C4, C7
Small Noisemakers – C3, C7
To finish up, I popped in my gift cards and crossed the twine around the holder to keep everything nice and snug inside.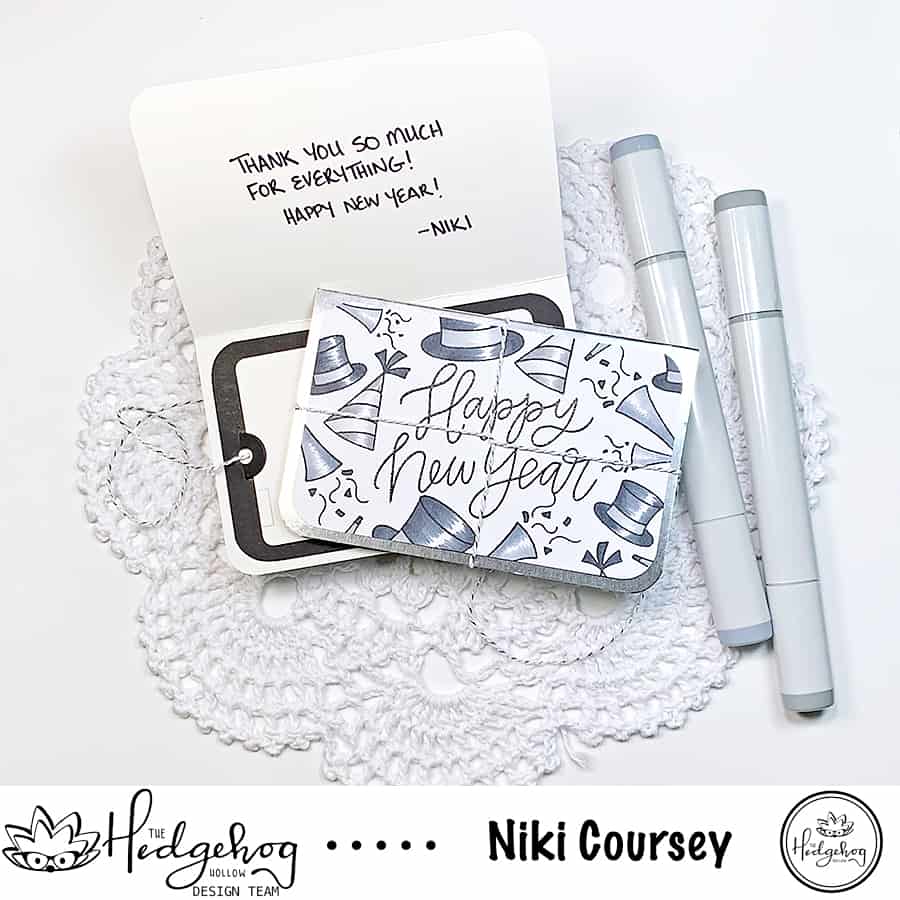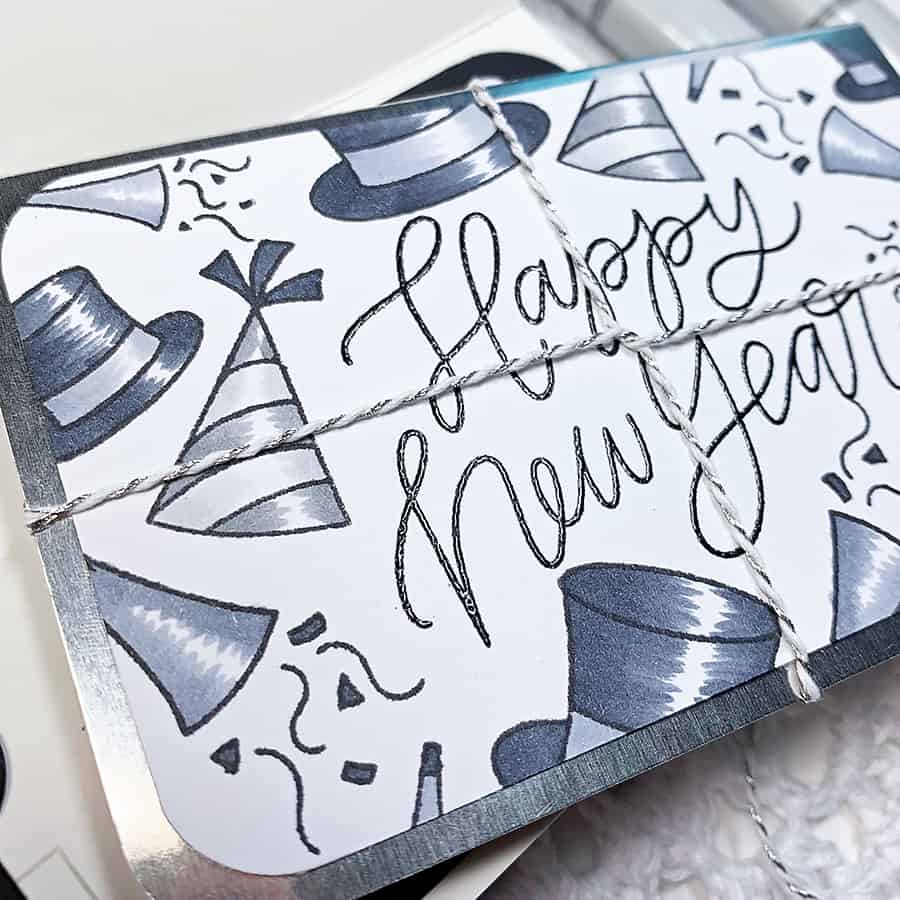 Thank you for reading today!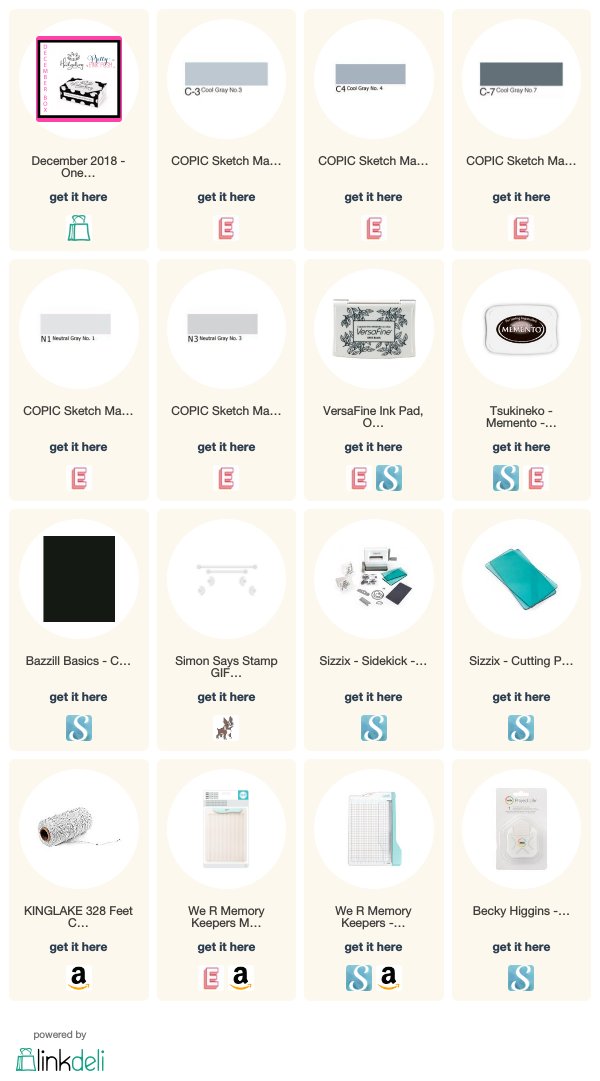 PS – Here's another idea for presenting gift cards!