Inspiration: Creating Frames with Masking
This post contains affiliate links. Read my full disclosure.
This nifty idea for creating frames with masking was demonstrated in the card class I'm taking. I gotta say, this came out way cooler than I thought it would.
For today's project, I used two oval dies from Spellbinders to make the 'frame' for my sentiment. I cut a 5.5″x4.25″ square of masking paper and centered the oval dies, cutting them both at the same time. I saved the all the pieces to mask off the parts of my card I didn't want ink on.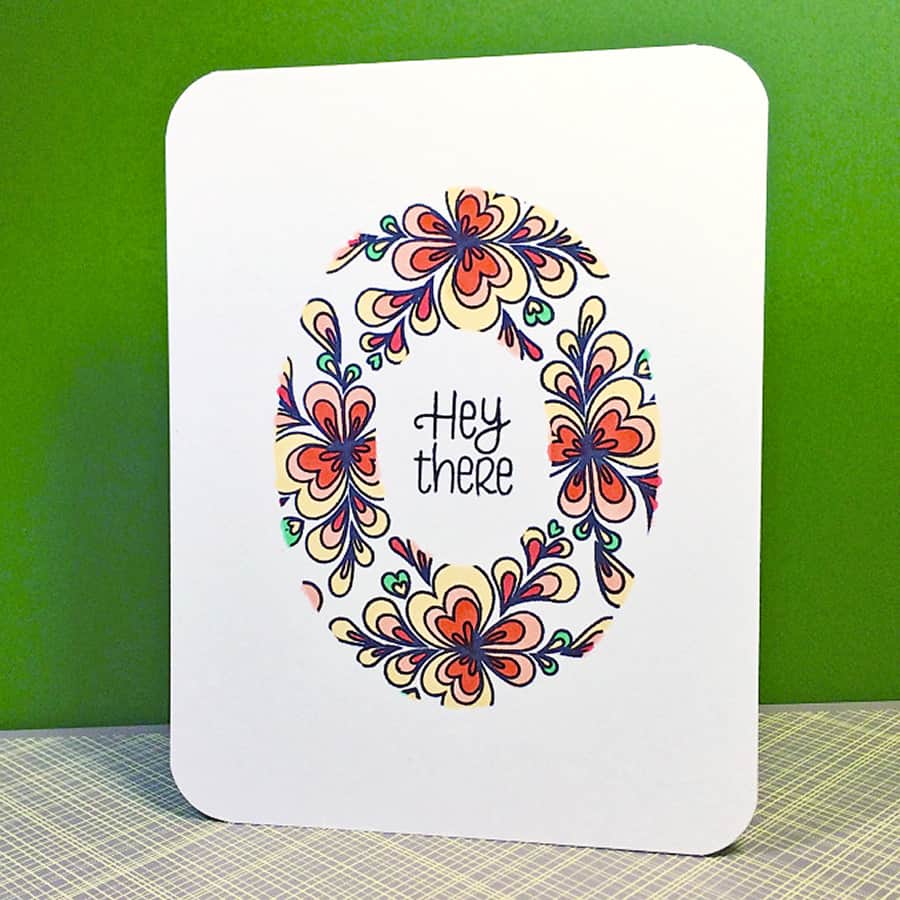 After I stuck the sheet of masking paper on the front of the card, I peeled off only the "O" shape. This is where I wanted to stamp and color my design. The stamp set is from Papertrey Ink and is called Quilled Elegance. There's a link at the bottom of the post if you want to check it out… it is one of my most favorite stamp sets. The loops are so much fun to color and you can get some really cool looks if you add in a few embellishments or finishes (read: glitter. Glitter makes everything better.)
I chose the largest flourish in the set and stamped it four times, and I used just the edge to fill in a few spaces that needed a little something. The coloring is done with Copics, and I used a combo that I found on Pinterest.
Pinterest is a great place to find really nice color combos, it's worth your while to check it out. Design Seeds is one of my favorite on there; I have a board here where I collect my favorite color mixes. You will probably recognize some of them in my projects 😉  The one I used today is called 'Blossom Love' on my color board if you'd like to see how it translated. Also, if you're interested I can post the Copic colors I matched up for the card from those swatches.
Next step was the fun part; the big reveal.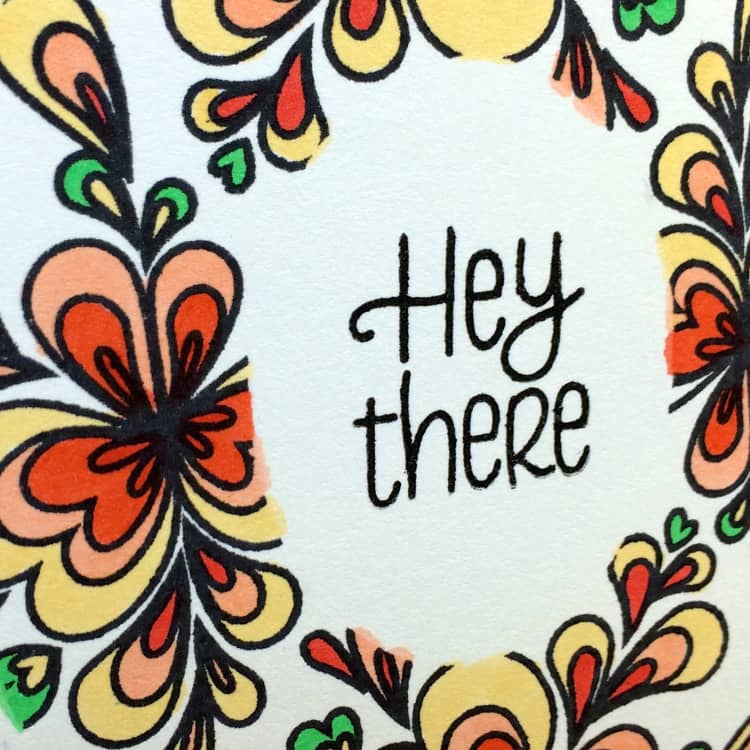 [bctt tweet="Peeling off making paper after stamping is like opening a gift on Christmas day. " username="cardstoq"]
I did a few touch-ups with my colorless blender and found a sentiment stamp to go in the middle, and I was done. I like making these one layer cards – so simple but so nice and pretty quick to finish. You could make a bunch of these to give away as card gift sets in no time 🙂
Creating frames with masking is an easy way to spruce up a one layer card – thanks for stopping in to check it out. If you liked this post, please share the love by pinning to Pinterest! I'd really appreciate it 🙂

The links below are affiliate links to the products I used today. There's no additional cost to you, and if you decide to click and shop, I really appreciate the support! Thank you!