Painting with Ink to Make a Background
This post contains affiliate links. Read my full disclosure.
I thought I would try my hand at painting with ink. I love the Hero Arts Shadow Inks. They are kinda blotchy looking when you first stamp them, but trust me, once they dry, they smooth out REALLY nice.
Today I used a little set of Memento Tear Drop inks and some water to make the background for my sentiment. Of course, if you have real watercolor paint, you can create a similar finish with the same technique.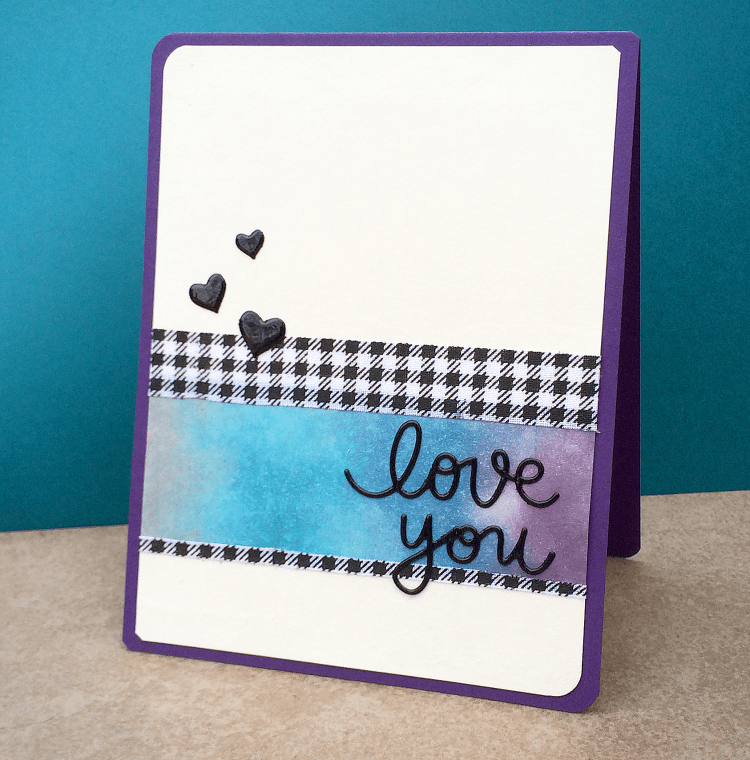 Watercolor paper is the best thing to do this on – it can stand up to the water without breaking down. This goes for both paintings with ink and true watercolors.
To paint, I just stamped the pads face down on my craft mat (note to self: invest in a box of stain removing wipes and one of those fancy non-stick craft sheets before I try this again). I spritzed the ink with water and dipped my paintbrush, and starting with the lightest color, I worked my way across the rectangle I had masked off, blending the colors into each other with extra water.
As a side note, Eclipse masking paper is not water-resistant. The Inkadinkado brand seems to hold up a little better. Which brings me to my next step…
When I tried to remove the masking paper, it disintegrated and made a colossal mess above my painted area. The bottom edge was ok, so I used a strip of fabric tape to cover the mistakes.
[bctt tweet=" Washi tape is the adhesive bandage of the craft world." username="cardstoq"]
I die cut a few hearts and the sentiment (one of my favorites) out of black cardstock. Then, I clear embossed all the pieces to add a little dimension and shine. That part came out well, and I really liked how the die cut words looked – like they were written with enamel paint.
I chose 'Gummy Bear' from the Bazzill Card Shoppe line of paper to compliment the purple in my painted area, and attached my card front with my ATG. The purple elements look great with the houndstooth pattern of the fabric tape. I linked the washi version below for you 🙂
Do you craft with washi tape? Comment below and tell me how you use it in your crafting!
PS – Here's another post you might like…

The links below are affiliate links to the products I used today. There's no additional cost to you, and if you decide to click and shop, I really appreciate the support! Thank you!