5 Tips For Quilled Watches
This post contains affiliate links. Read my full disclosure.
I have had people ask me how I make my quilled watches. I'm a detail-oriented person, so I love to make tiny things. In fact, I feel much more comfortable with small projects than something that would take days or weeks to do.
Maybe it's me always being in a hurry, or perhaps having the attention span of a goldfish that keeps me working in small-scale.
Either way, I like starting a project and actually finishing it on the same day. I feel like I accomplished something before the kids get home 🙂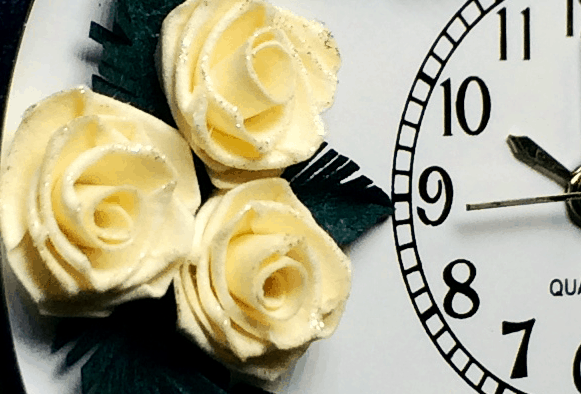 I do have a few tips and tricks to speed up the process that I'd like to share with you:
Use a template to figure out the design layout on the watch face. I need to do that to make sure the designs will clear all the hands on the clock face itself. It's a file I created on my Silhouette CAMEO so I can cut out templates from patterned paper and use them as backgrounds. You can make a template by turning the watch face upside down on plain paper and tracing around the outside of the watch. Draw a smaller inner circle and then use it to arrange your design.
Lay the watch down flat to assemble, but tilt up to embellish. When I'm adding any decorations, I put it up on a little watch stand that I picked up at Michael's. You can tell how the light will hit the design and it becomes easier to see the proper placement of any glittery bits.
Embellishment isn't confined to just glitter, though. Glossy Accents makes small water droplets and adds shine to tiny pieces; glass beads are a great way to add a pop of color, small sequins, and even a few doodles can go a long way. By the way, I'd recommend 1/16″ quilling paper or thinner for making designs – the 1/8″ doesn't leave much room for dimension.
Use a good clear, permanent adhesive and be quick and careful to seal in your work. Don't use crazy glue or any cyanoacrylate (CA) type adhesive – it causes a reaction with the metal or plastic, and the inside of the crystal will haze over permanently.
Snapping the crystal in is a little tricky sometimes.  If all else fails, chip the glue carefully off the edges (you know, from the last attempt) and pop the crystal in the freezer for 30 mins. The cold shrinks the crystal just a bit, and you'll have about 5-10 seconds to get that baby on the watch before it expands again. Don't worry, that's plenty of time. When it's ready, put some repositionable adhesive on your thumb, dab your glue on the edge of the watch face and carry it to the freezer. Very quickly, open the freezer, stick your thumb on the crystal to pick it up and snap it on the watch.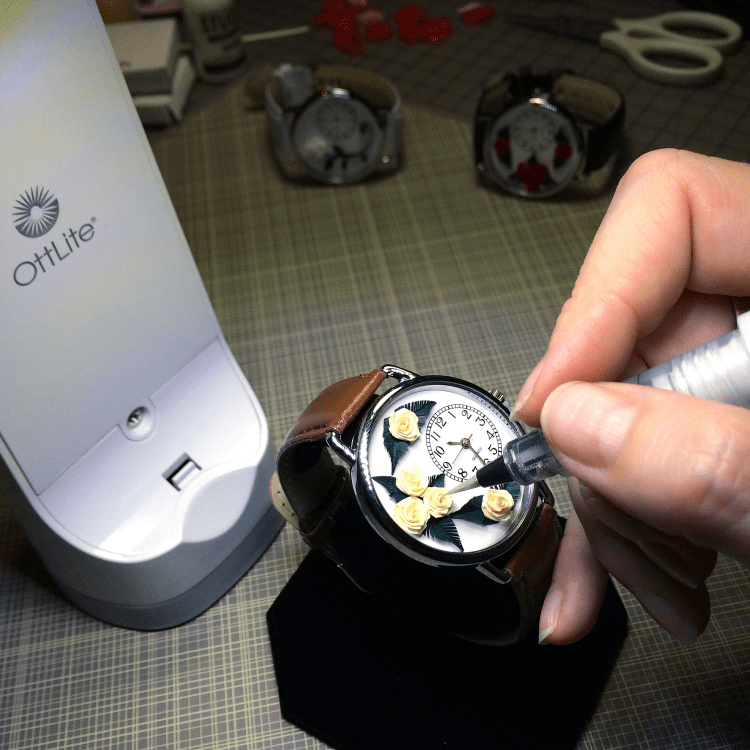 I took this pic while I was adding the fine glitter to the roses. I love that glitter pen. I have it linked at the bottom of the page if you're interested in checking it out. Also, you can check my eBay for empty watches if you'd like to pick one up and give watch decorating a whirl. I have a few that I post there from time to time.
I'd love to see what y'all make 🙂 If you liked this post, please share the love by pinning to Pinterest… I'd really appreciate it!

The links below are affiliate links to the products I used today. There's no additional cost to you, and if you decide to click and shop, I really appreciate the support! Thank you!