A Rainbow Melt Card with Zig Clean Color Brush Markers
This post contains affiliate links. Read my full disclosure.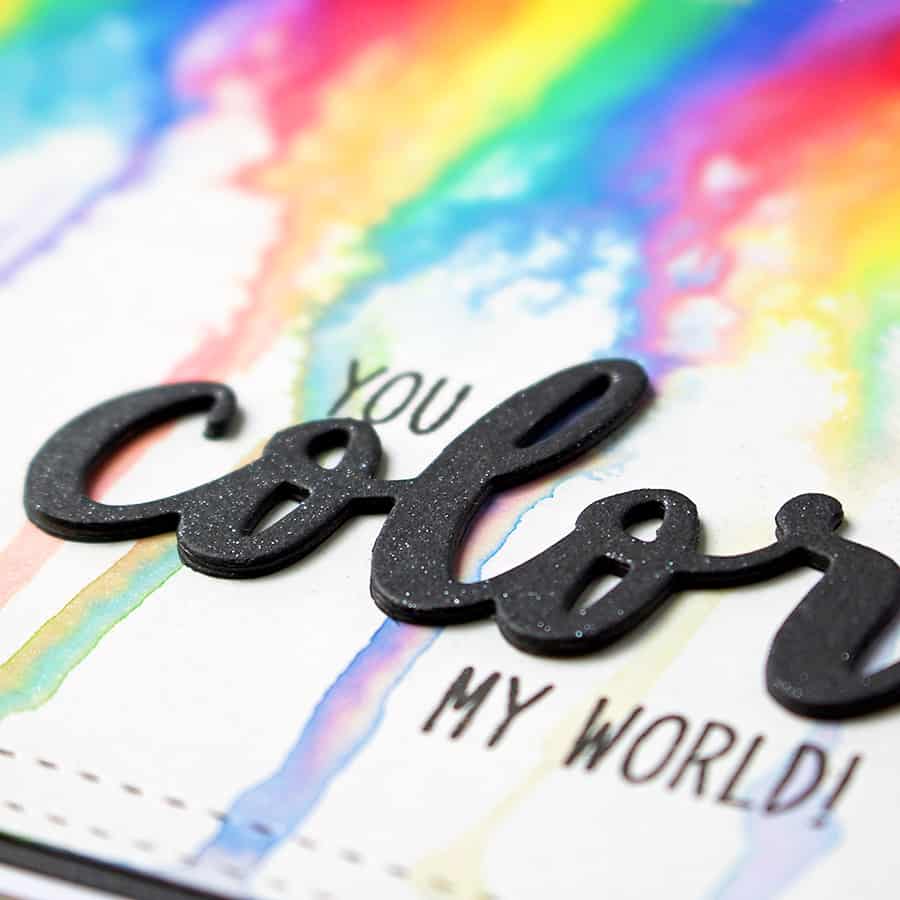 I have never tried to do a rainbow melt style card before. Partly because I can't bring myself to melt crayons, but mostly because I wasn't sure how to translate it to a card without a giant mess.
But, since I became a part of the Design Team for the CutCardstock blog, I have tried several kinds of new cardstocks. One of my favorites is Curious Metallic in Cryogen White. The paper has a subtle sparkle that shows through most inks and paints. It's pretty neat to have a paper that has built in glitter!
What I wanted to show you today, though, is that since this paper has a coating on it, watercolor inks tend to float on top for a few minutes before soaking in. This makes it super easy to do techniques like this "rainbow melt." It very much resembles the crayon melt art you see on Pinterest, but this card is done with Zig Clean Color Real Brush Markers.
You'll need:
Zig Clean Color Real Brush Markers
Bazzil Cardstock in Licorice
Curious Metallic Cardstock on CryogenWhite
TealKat Creations Premium White Cardstock
Sunny Studios Die and Stamp set
Ranger Mister
Artist Tape, or another tape that won't mar the paper
Tombow Mono Multi Glue
Tonic Nuvo Aqua Shimmer in Gloss Glitter
Versafine Ink in Onyx Black
MFT Wonky Stitches Die
To start, cut you a piece of A2 (4.25 x 5.5″), Cryogen White. Don't trim it with the die yet – use that to clean up your edges after you're done with the painting.
Tape your paper down with artist tape onto a flat surface. I use an old wooden clipboard or the back of a 12 x 12 cutting mat for watercolor. It helps with controlling the direction of the water flow and also keeping the panel straight as it dries.
Pick out the colors you want to use (it doesn't need to be a rainbow, blues and greens would be just as lovely) and start scribbling blocks of color across the top of the cardstock. It's okay if it dries; the water will reactivate the colors.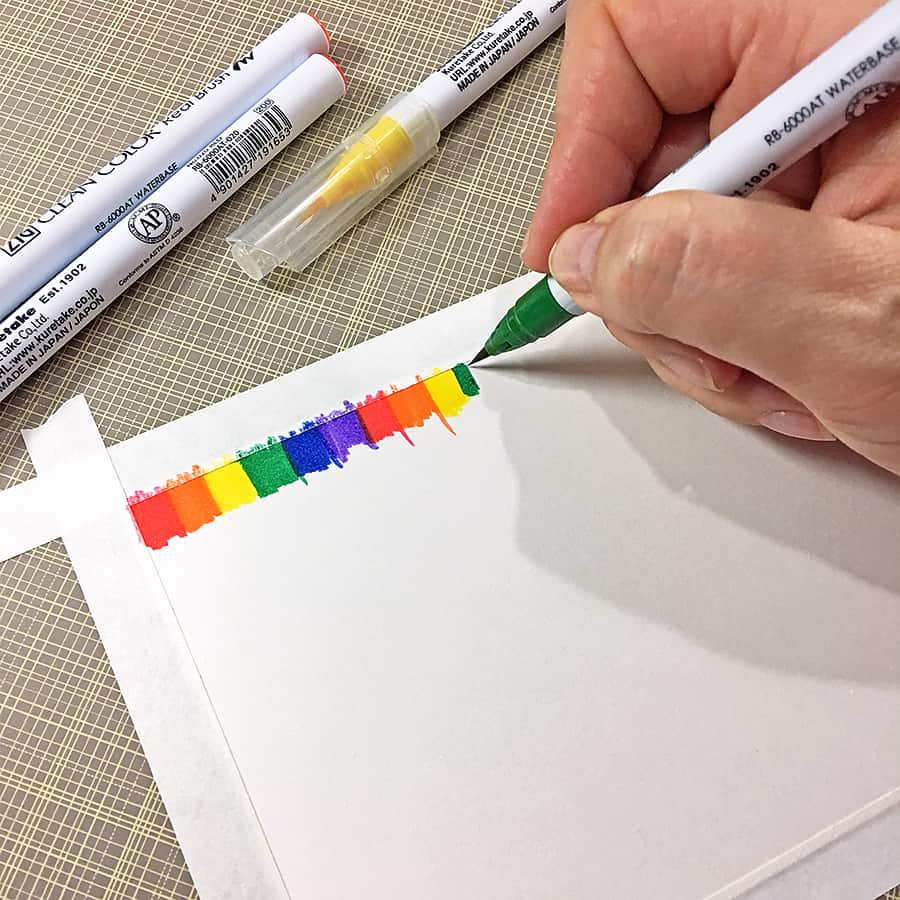 Next, spritz your panel lightly with water, concentrating on the colors across the top. They'll start running right away. Add more water if you like and tilt the board to get a result you're happy with.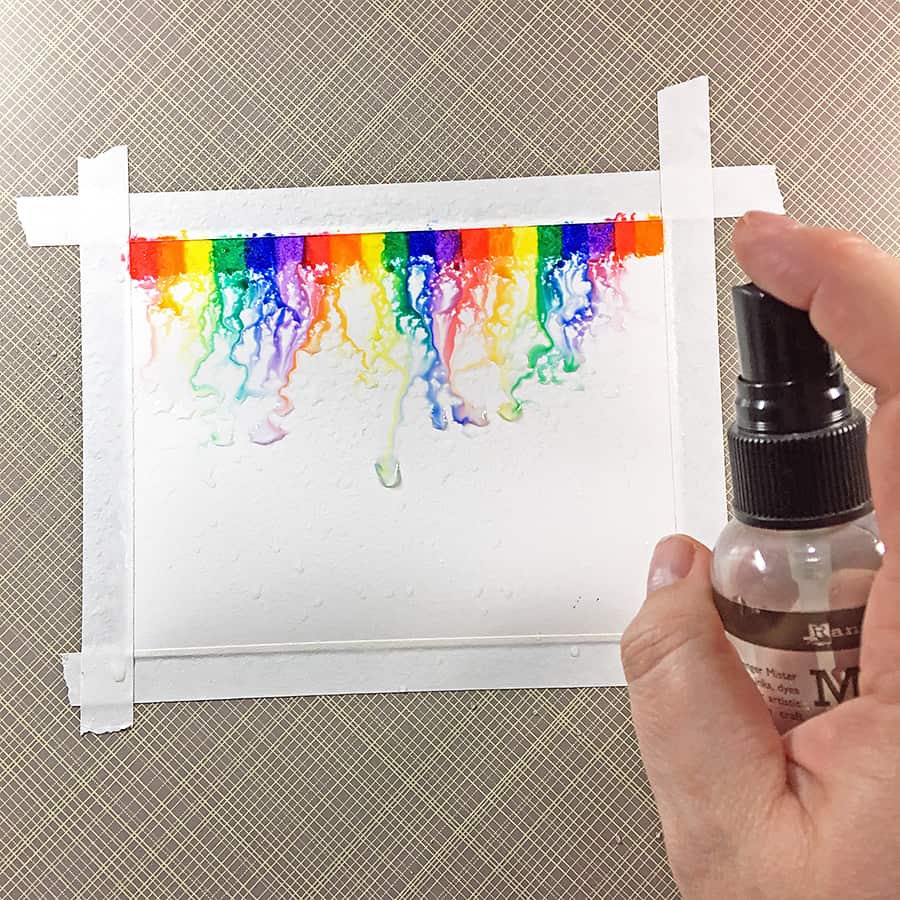 Full Disclosure: This card was my third attempt. I used too much water on my first card, and I messed with the second one too much, which made my colors muddy.
When you get your panel looking just right, lay it flat and let it dry. You can even hit it with your heat tool if you like.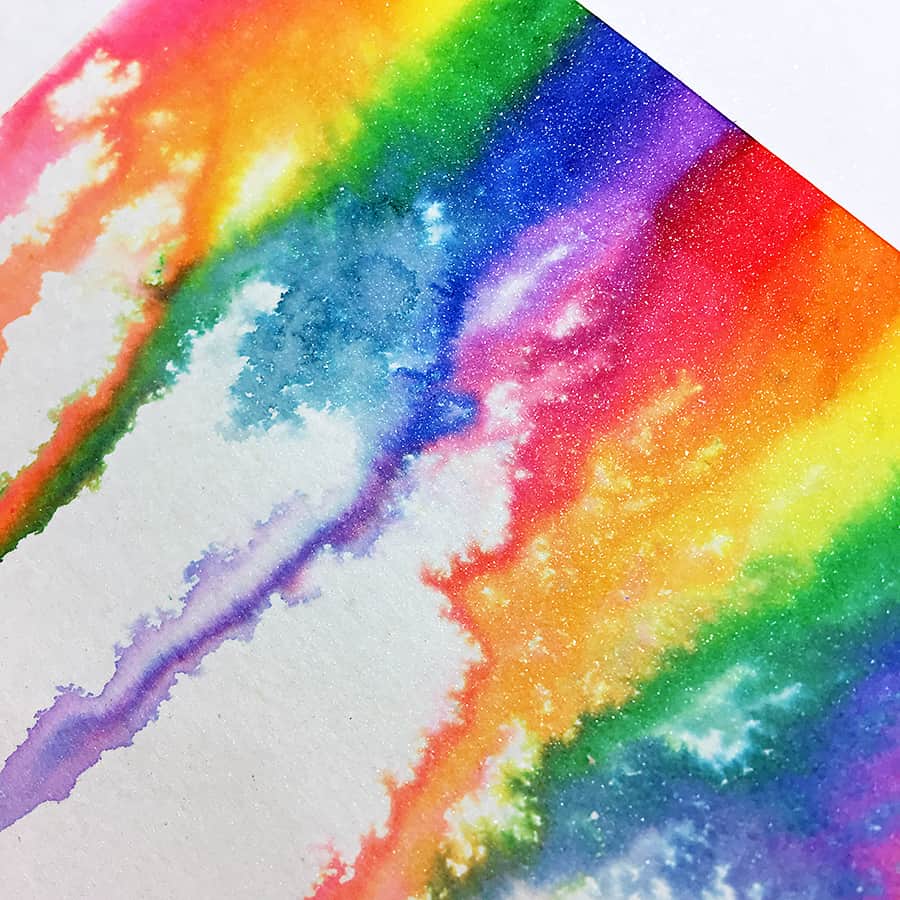 Check out that glitter!
While you're waiting for your background, go ahead and cut the word "color" three times from the black paper. We're gonna stack them to make a pseudo-chipboard embellishment.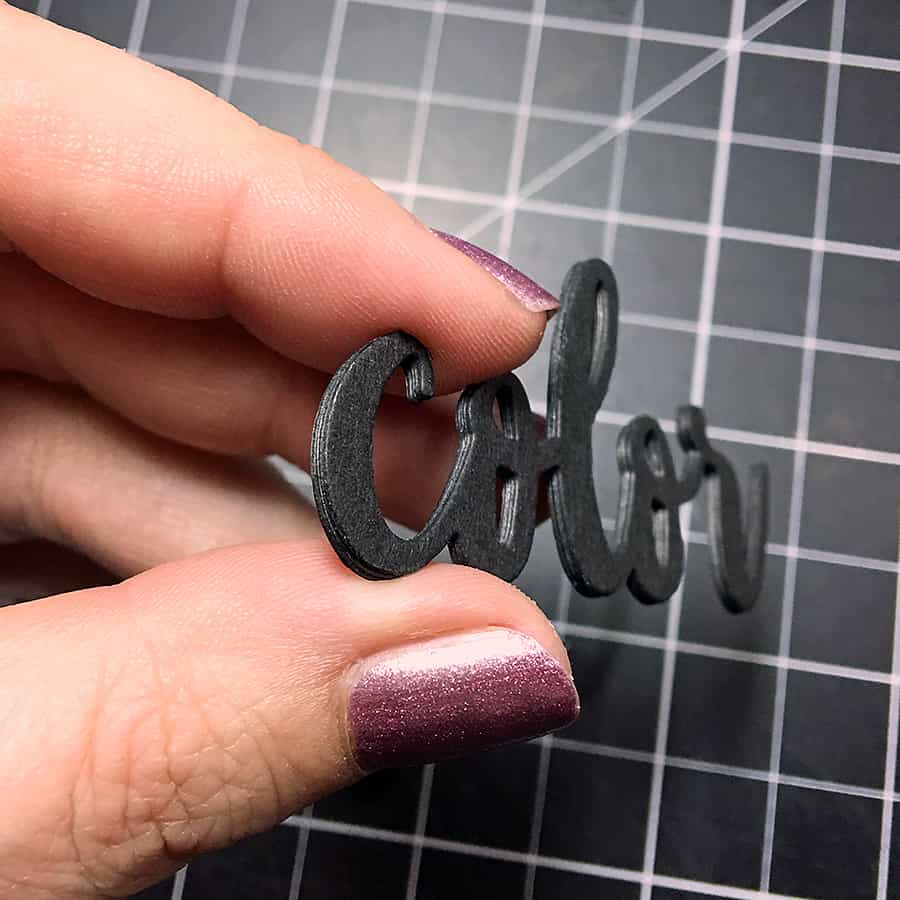 Stick them together with the glue and when your panel is dry, die cut your panel with the Wonky Stitches die. Position the word in the bottom right corner (following the Rule of Thirds) and adhere.
To stamp the rest of my sentiment around the die cut, I used a MISTI stamp tool. If you don't have one of these babies by now, you need to get one. Total game changer, I'm telling ya.
Finally, mat your panel on top of a 4 x 5.25″ piece of the black paper and center over your card base.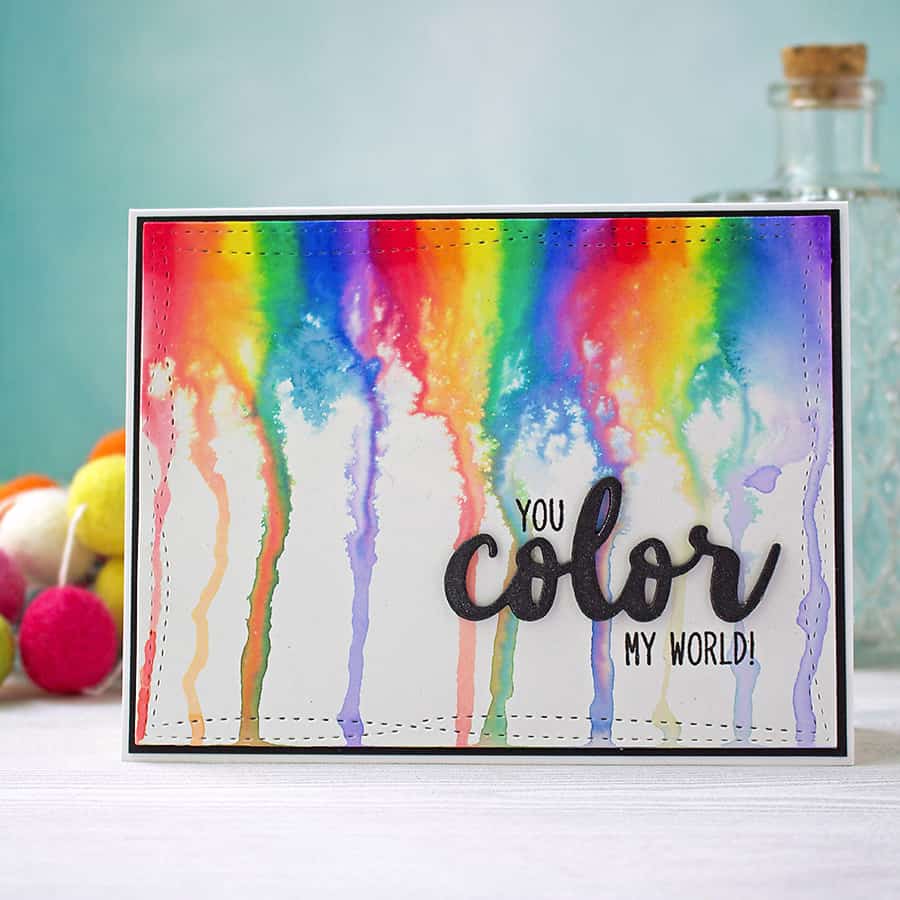 Thank you so much for visiting my blog today! If you liked this rainbow melt technique, please share the love by pinning to Pinterest, or even a shout out on Twitter!
Have a great one!
Niki