The Cutest Little Trio of Ghosts + HH October Box
This post contains affiliate links. Read my full disclosure.
Happy Friday! Today I have the cutest little trio of ghosts to share with you. This stamp set is from the October box and was made just for The Hedgehog Hollow by The Ink Road. How cool is that?!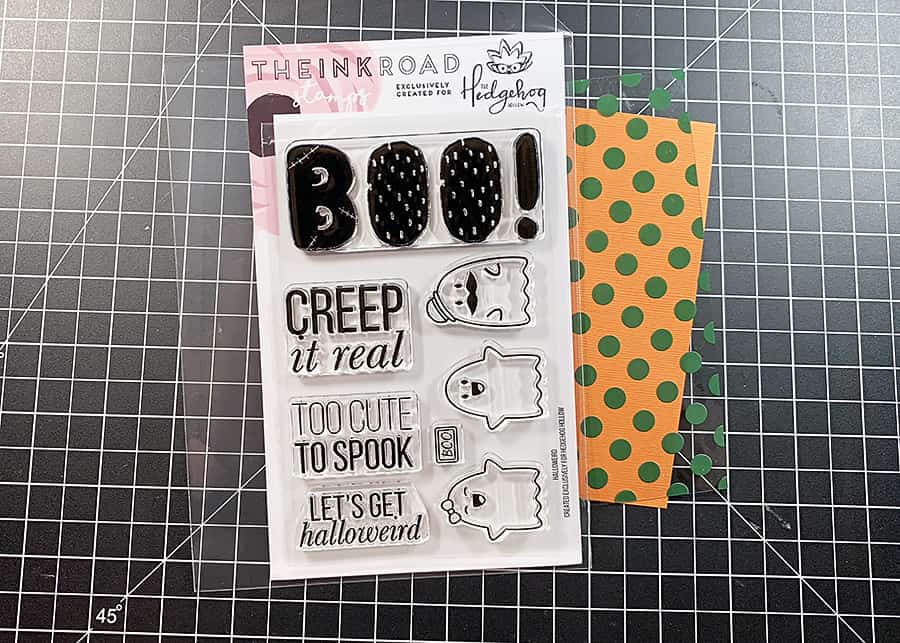 To make this card, I chose the green dotted acetate, the orange cardstock, and I cut up one of the card bases to use for stamping the ghosts.
I knew the layout I wanted to do, and I needed some type of frame to hide the edges of the acetate. There was a frame die in my stash from Mama Elephant (Framed Tags) that worked perfectly, so I die cut the frame from orange cardstock (and saved the center cutout for another card), then trimmed the acetate to 4″ x 5.25".
Acetate is always hard to adhere, but I find that Tombow Xtreme glue tape and most foam squares do quite well. I noticed the back of the green dots was a lovely silver-blue that went really well with the orange cardstock, so I flipped the acetate and adhered it to the frame with glue tape. Then, I added foam squares to create spacing between the card base and the frame.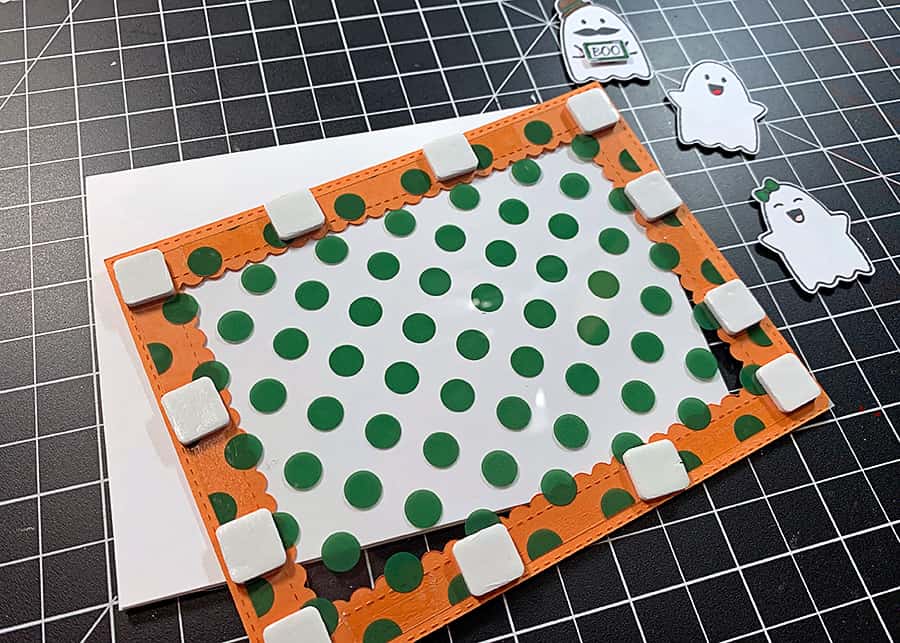 For the ghosts, I stamped them in Staz-On Jet Black Ink and colored them with Nuvo Aqua Flow Markers.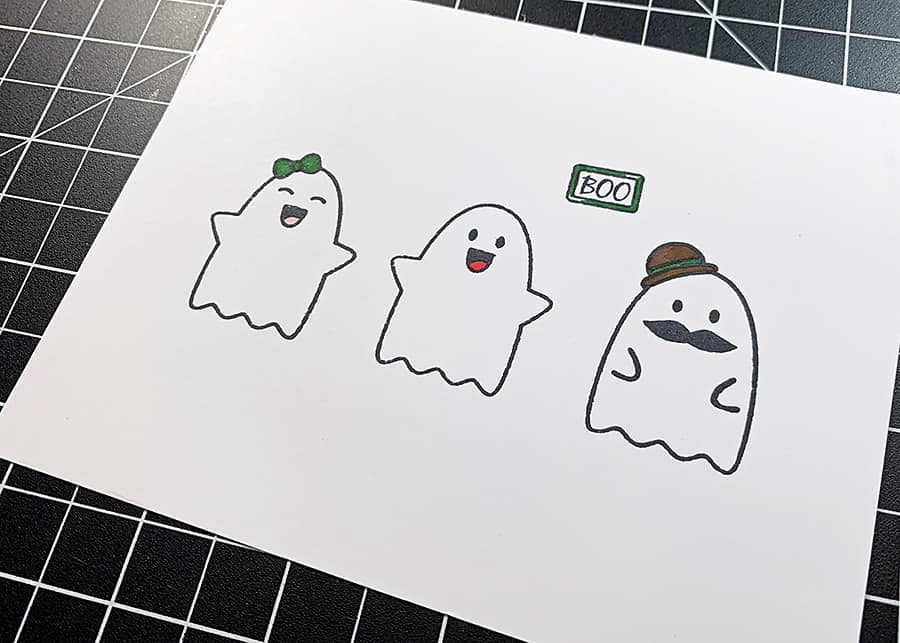 The idea was to fussy-cut them out, then pop them up on the acetate with foam squares to give a floaty appearance. If you don't do much fussy-cutting, the trick is to hold the scissors still and "steer" the paper while cutting. You'll end up with super smooth cuts, like using a die, and no jagged or sharp edges.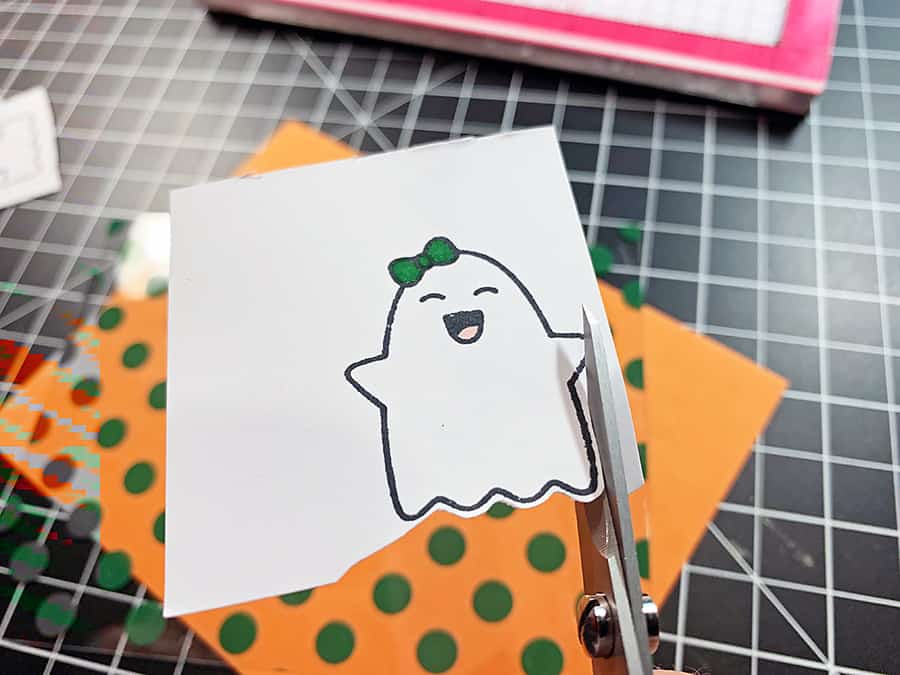 She looks so happy!
I waited until the very last minute to stamp the sentiment, mostly because I wasn't sure which one I was going to use (I'm notorious for turning a project on its head at the last minute… do you do that too sometimes?). It wasn't a problem, though; there was lots of give in the acetate, and the magnets from the MISTI held everything still as I stamped the sentiment in Staz-On ink.
Then it was just a matter of attaching my little trio of ghosts with some foam squares, and the card was done.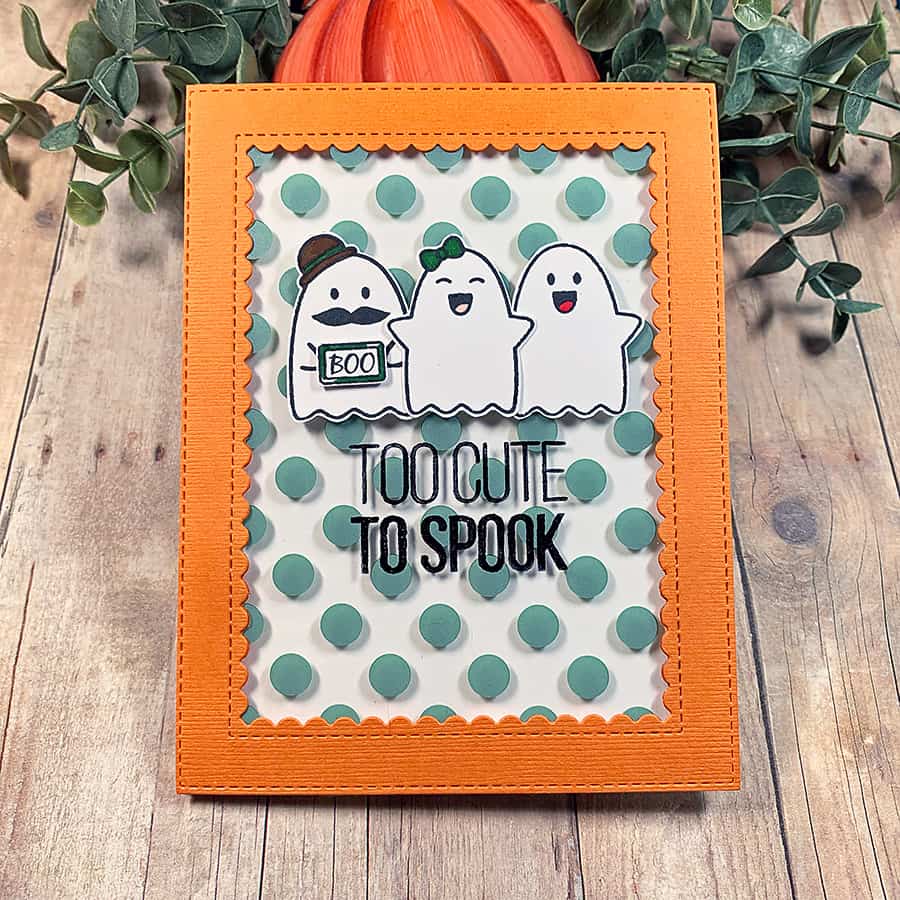 Thank you for reading today! Have you been following all the Inktoberfest activities on the Hedgehog Hollow blog? Take a look at some of the posts from the past couple of days and get ready to soak up some inky inspiration!
PS – Here's another oldie but goodie Halloween card. It ain't that great, but the little skellies in the shaker are so cute!