Butterflies on a Watercolor Background
This post contains affiliate links. Read my full disclosure.
You almost can't go wrong with a watercolor background. It's super popular now and is also a very forgiving technique for your projects. Especially if it's a butterfly watercolor background!
The imperfections and translucency in the watercolors are what makes it beautiful, I think – almost dreamy. Instead of using traditional watercolor paints for my card today, I broke out a gouache set.
Gouache (pronounced gwash) is also watercolor, except that the pigment is opaque. I prefer it over regular watercolors because the colors are a little brighter.
And since the weather is getting warmer here in Texas, I'm transitioning into my "Rainbow Everything" phase.
Creating The Card
I saw this metal wafer butterfly die online, and I had to have it. Can you imagine it in all white for a wedding card? Me too!
Of course, I didn't go all white today – I got me some good watercolor paper (the kind with cotton) and started in the bottom left corner with my paint.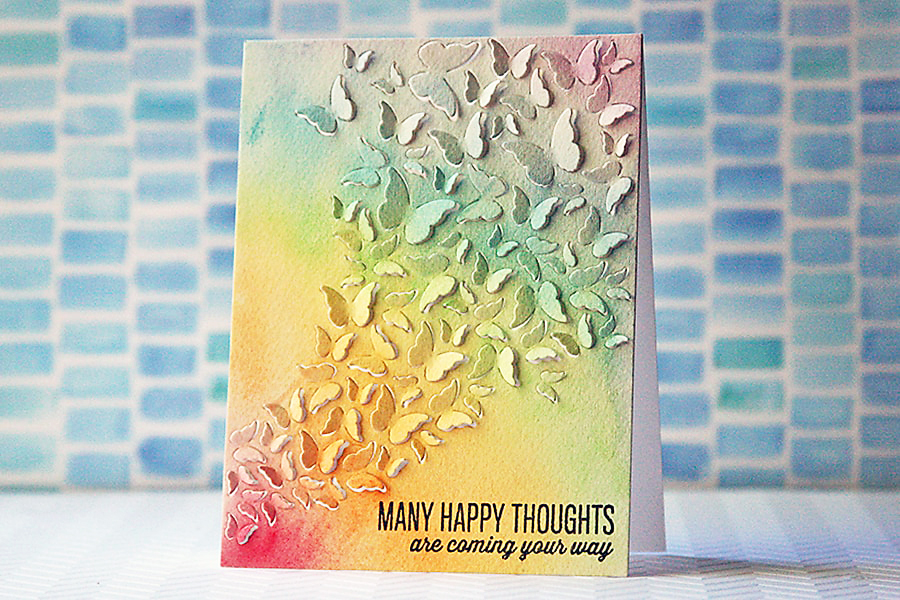 To get a similar result:
Use watercolor paper and tape down your edges. Use a piece that is slightly bigger than you intend to use so you can 'crop' your project.
Wet your paper evenly with clear water on your brush. This helps the pigment move around. Make sure it's enough water that you can see it on the paper – if the paper looks dry or just damp, the colors won't blend nicely.
Starting in the bottom left corner, load your brush with paint and dab it on your wet paper, letting it spread and do its thing. Remember, watercolor isn't an exact science! Continue adding your colors in a rainbow banded pattern to the top right corner.
If they aren't blending well, try adding a bit more water with your brush as you work.
Once my panel was completely dry, I ran it through my Big Shot with the butterfly die. Tweezers were the perfect tool to pop up the butterfly wings, and I stamped the sentiment in Versafine CLAIRpigment ink.
I adhered the completed butterfly watercolor background onto my card front and, as a finishing touch, sprayed it with a Sheer Shimmer Spritz in Sparkle.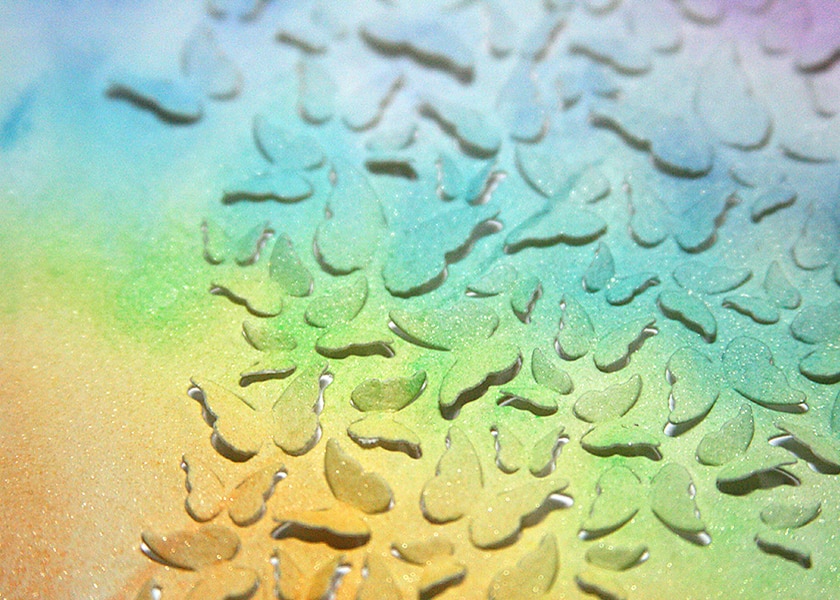 That's all for today! Have you tried painting with watercolors yet? Did it work out for you on the first try? I'd love to hear your comments & don't forget to follow me on Pinterest 🙂