Coloring Peonies with Copic Sketch Markers
This post contains affiliate links. Read my full disclosure.
It's a beautiful day here today. I think the temperature outside reached around 75F, and the sun is shining for a change! So lovely, in fact, that I thought I would break out some floral stamps sets, and I spent the afternoon with the window open while coloring peonies with Copic markers.
Glorious, I tell ya!
The stamp set I'm using today is called Large Peonies, and it's from the Just Add Color collection by Stephanie Low at Spellbinders. They sent me this set a few days back to try it out, and I really like them!
To make my card, I stamped each image once on a piece of smooth white cardstock. I planned to color them all in, fussy cut them and create an arrangement on the card front.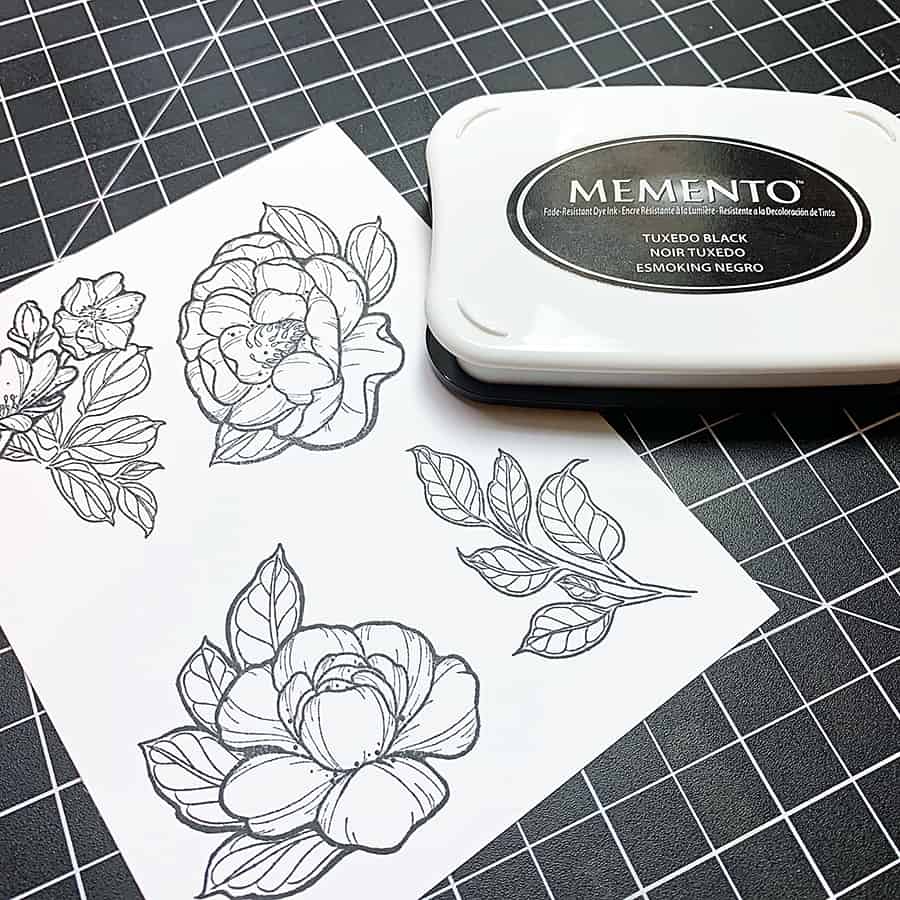 I also posted a quick video clip on my Instagram of coloring the peonies! You'll find it below.
The Copic marker colors I used are:
• V000, V15, and V17 for the peonies
• G14, G17, and BG78 for the leaves
To get the blending and contrast on the petals, I filled in each one with V000, then flicked V15 out from the base of the petal. Next, I added in some tiny flicks of V17 (where I thought there would be the most shadow), then blended it out with flicks of V15 and V000 in that order.
Once I had all the flowers colored, I used a pair of Tonic Studios Mini Snips to fussy cut them. As a side note, did you know the blades only have serrations on one side? Me neither! I had never looked at them that carefully before.
If you cut with the smooth blade on top of your paper, it's WAY easier to "steer." That was a tidbit I picked up from The Hedgehog Hollow. Mind blown.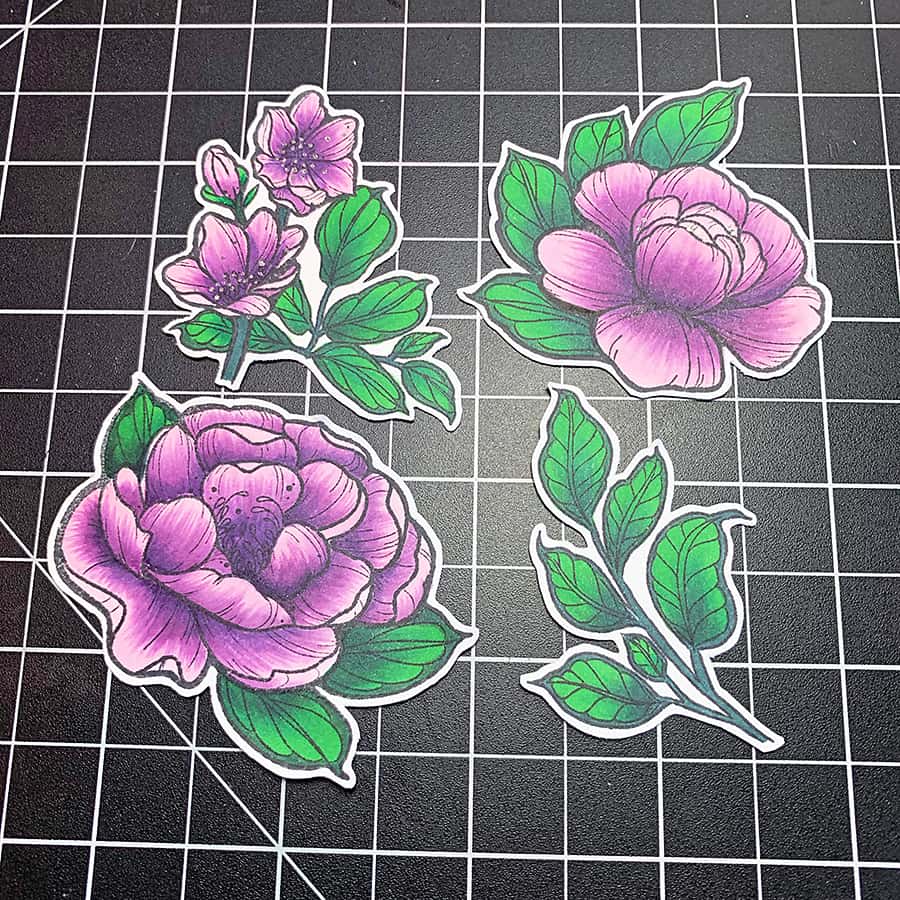 Anyhow, I decided on an arrangement for the flowers and adhered them together in layers using Thin Foam Squares. Now, I had a big embellishment that I could position perfectly on my cards.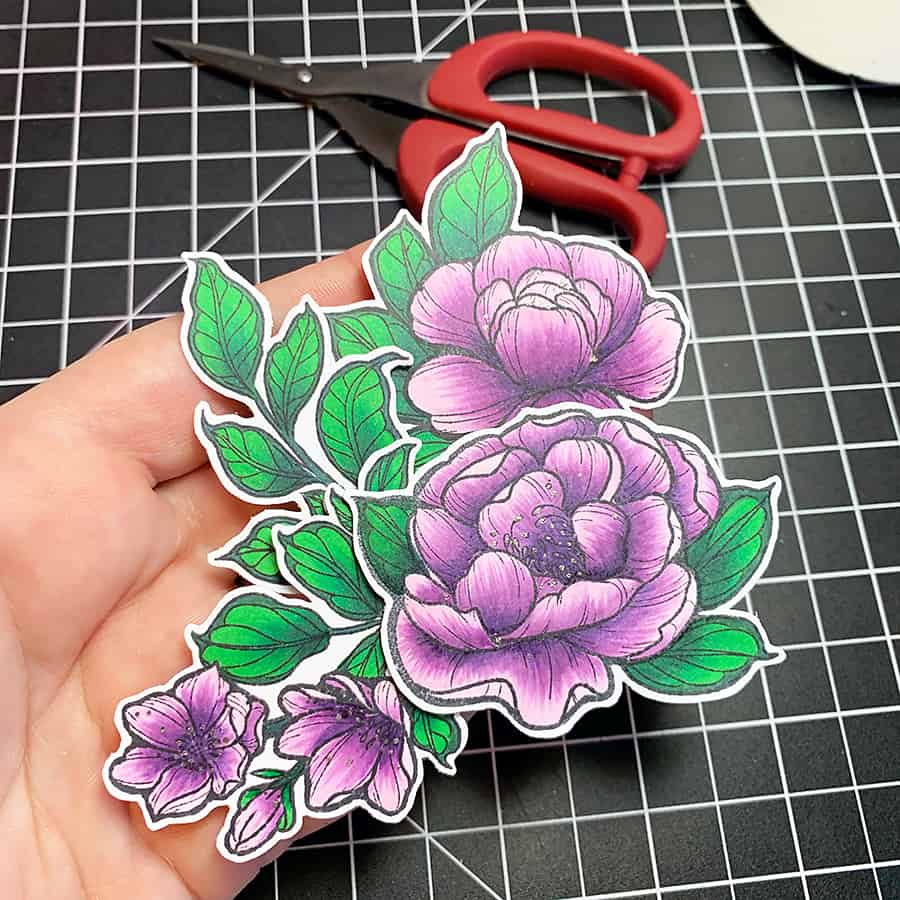 Next, I trimmed my cardstock. The card front will adhere to an A2 card base, so I cut the dark purple to 5-3/8" x 4-1/8" and the pink to 5-1/4" x 4". The white cardstock that the flowers would be attached to is 3-3/4" x 5", and I embossed it with a stitch-pattern embossing folder from my stash. But you can use any pattern you like best – a floral would be lovely!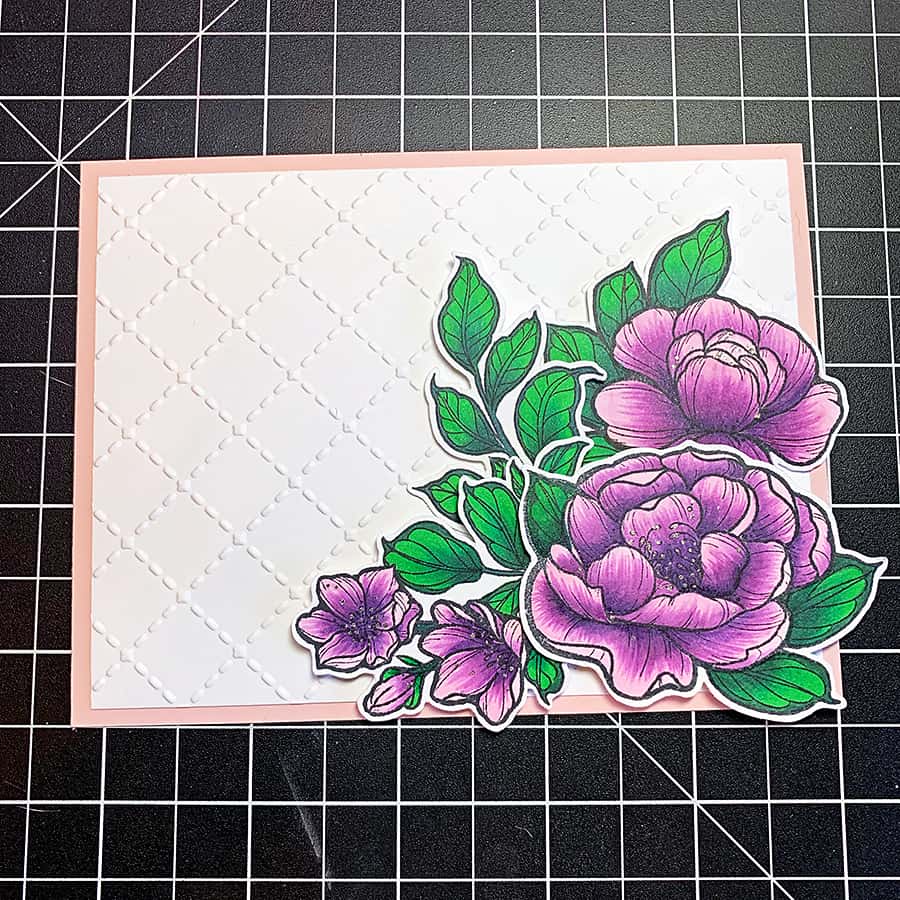 The next step before putting everything onto the card base was to make the sentiment strip. I trimmed a piece from the dark purple cardstock and dusted it with an anti-static tool before stamping the sentiment with Unicorn White pigment ink. Then, I heat embossed it with white embossing powder.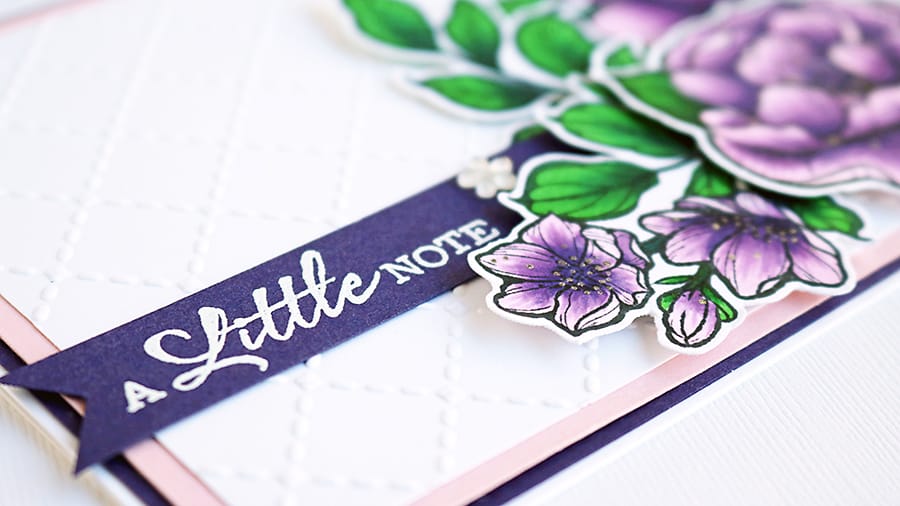 Sadly, I can't seem to find the link to this sentiment set called Brushed Sentiments Plus from Clearly Besotted. I linked for you another set below that's just as lovely, though.
Finally, I flagged the end of the sentiment strip and tucked it in place with some glue tape before I attached the card front to the base. And, of course, I dotted the centers with a silver Gelly Roll pen and added a few 'lil sparkly flowers 🙂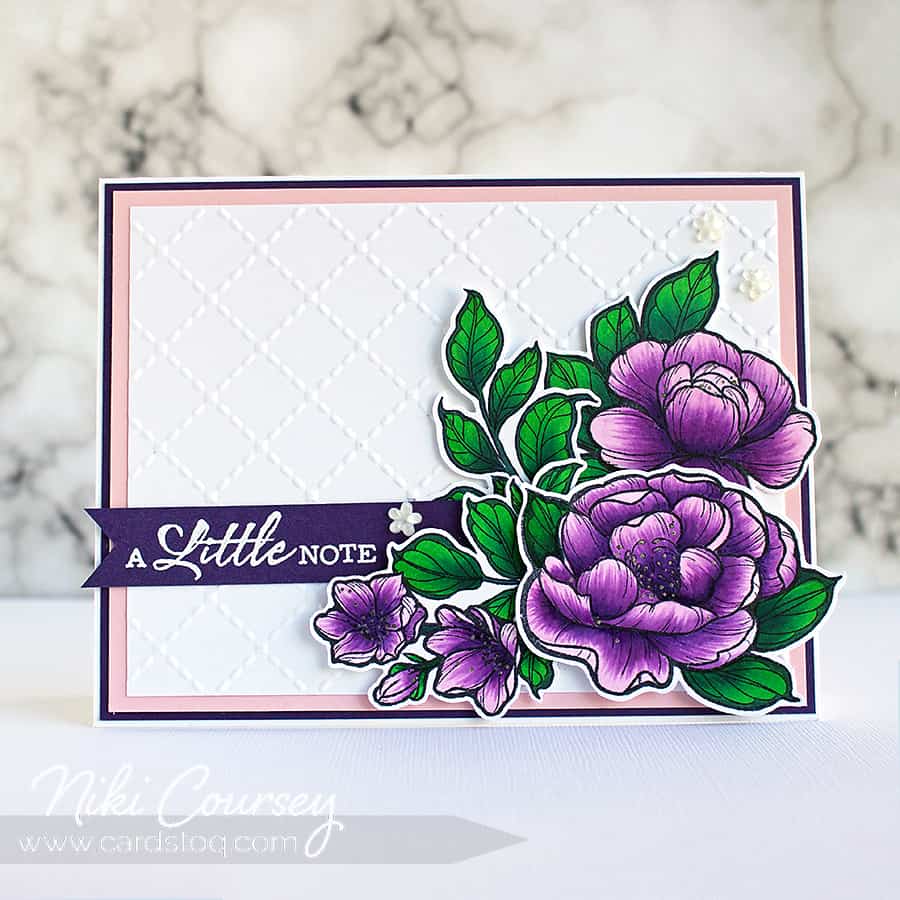 Thank you so much for popping in today! Happy coloring!