Covering Up a Boring Watercolor Background
This post contains affiliate links. Read my full disclosure.
Have you ever wanted to cover up a boring watercolor background for one of your projects? Maybe you went a little too light on the pigment, and it didn't entirely turn out the way you wanted it to?
It happens to me more than I'd like to admit. The idea seems great in my head until the paper dries and then the end result is… well, kinda dull.
I feel bad about wasting things I spend time trying to create, so I came up with this solution – when in doubt, cover it up with something pretty!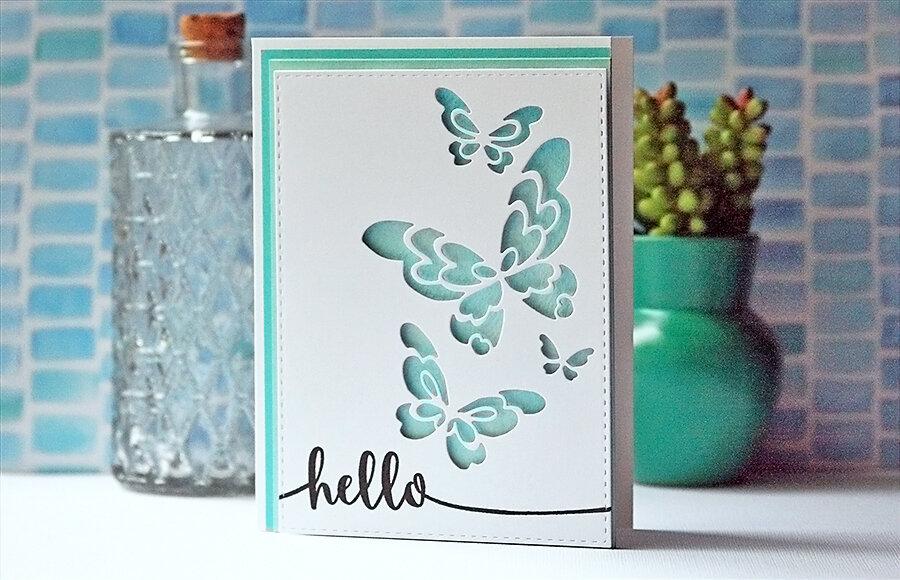 For this card, I *tried* to do an ombré with turquoise watercolor paint, but it wasn't very exciting, to say the least. So, I spritzed the watercolor paper with Sheer Shimmer Spritz, and while it was drying, I cut a panel to layer over it.
I know the point of spending time painting a panel is so you can show it off… but in this case, you could notice the gradual color change from light to dark easier through the butterfly cuts since the white lines broke up the appearance of the paint behind it.
And, of course, you can never go wrong with an extra layer or two.
The butterflies are a single metal die from Memory Box, but you can just as easily design and cut a similar panel in your favorite electronic die cutting software if you felt so inclined. I swear by my Silhouette CAMEO.
Later next week I will post a project with a layout similar to today's card. I'll design a panel with the CAMEO and post a step by step so I can show y'all how you can make one too. 🙂
Have you ever had trouble with a card? Leave me a comment below and let me know how you overcome design hurdles!