My Sweet Valentine Blog Hop + Ombre Ink Blends
This post contains affiliate links. Read my full disclosure.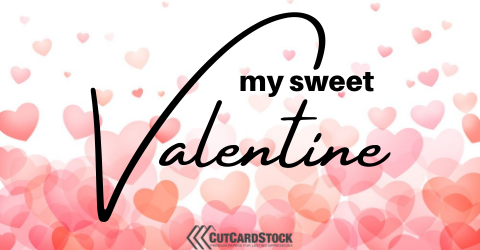 Hello, hello! Welcome to my stop in the CutCutCardstock My Sweet Valentine Blog Hop! You should have gotten here by way of Teri's blog. But in case you didn't, the hop list is below.
So today, I have a lovely slimline card for you today with a little ombre ink blending for the background.
I put this together with just a few supplies and some white 100lb Cougar cardstock. It's super smooth, so the ink just slides over the surface for easy blending.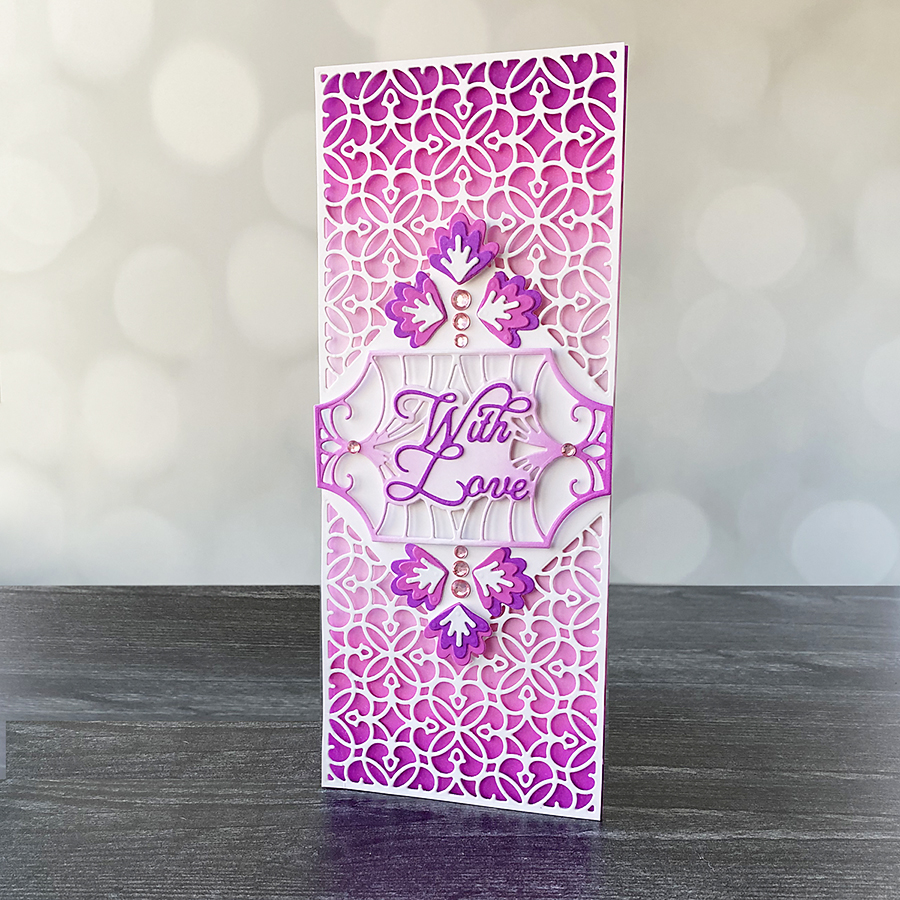 You'll find the supply list for this beauty at the end of my Valentine blog hop post. In the meantime, let's do a quick rundown of how this card comes together.
Firstly, trim and fold your cardstock to create a slimline card base, 3.5″ x 8.5″. Then, cut another sheet into single panels of the same size. Using the With Love Regalia Card Builder dies, cut the lacy ends by running it twice through your die-cutting machine.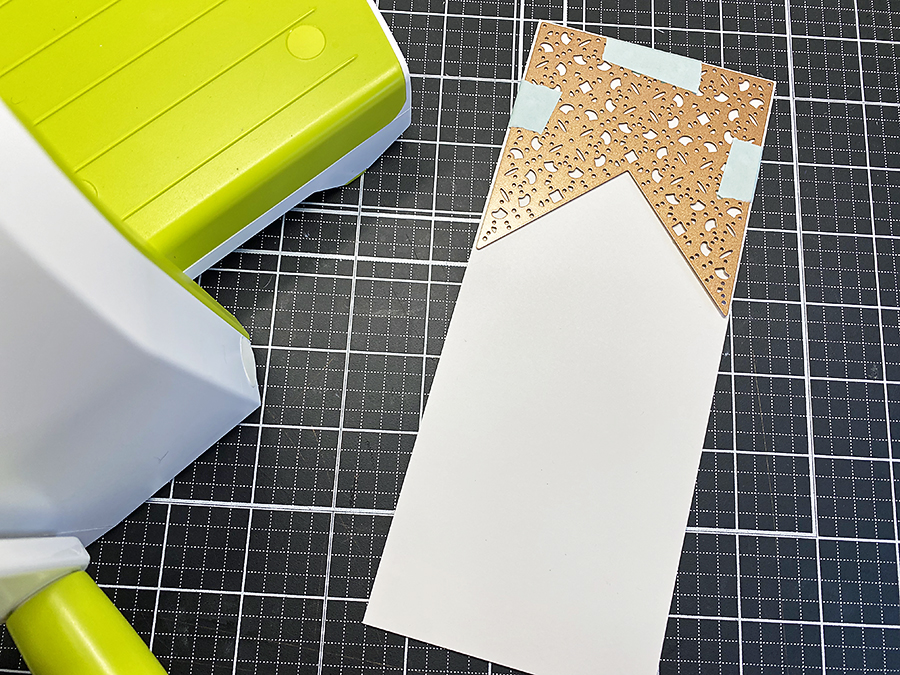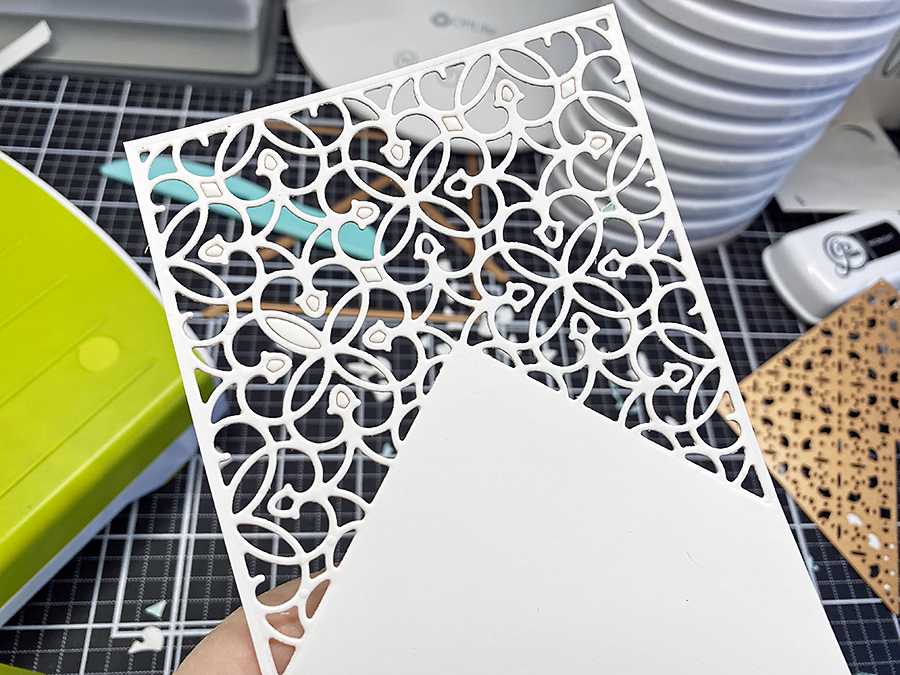 For one panel, start ink blending the colors with the blending brushes. First, lay down a layer of Be Mine from the top and bottom and stop just before the center of the panel. Next, add a layer of Pucker Up and blend down about to about the halfway mark of the first layer. Finally, add a band of Flirty Fuschia at the top and bottom and blend well.
Set that aside to dry. For these Catherine Pooler Inks, they go on a little blotchy but dry to a smooth solid color.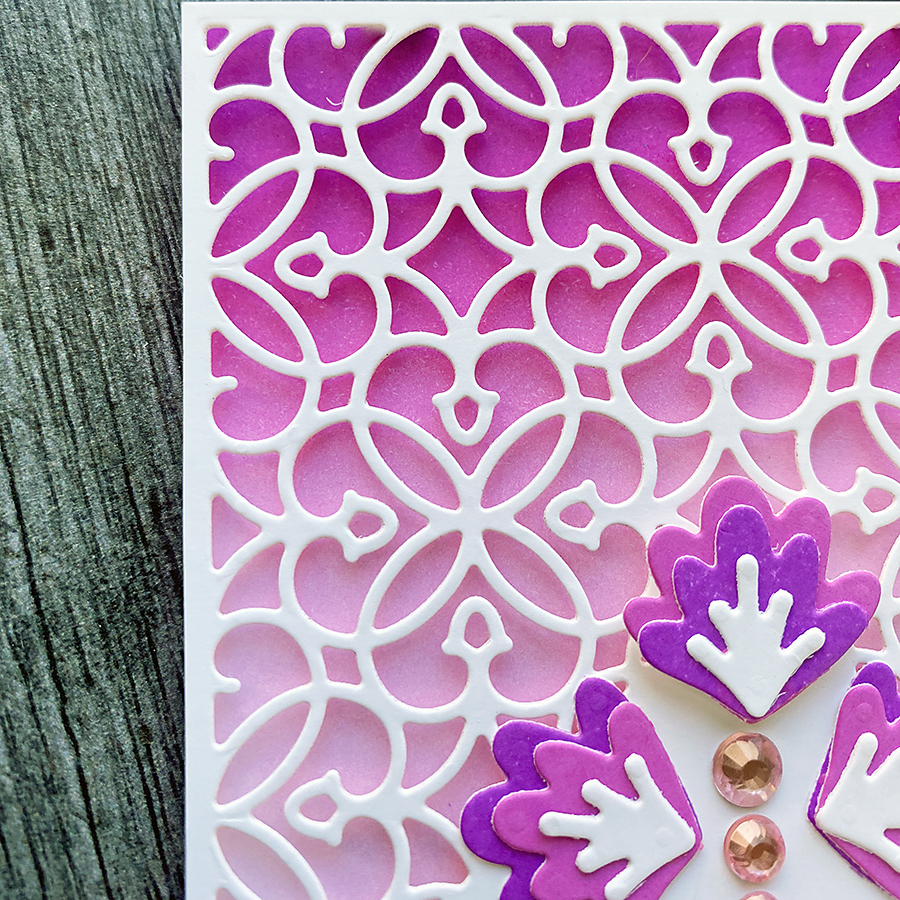 Meanwhile, rub your ink pads on another fresh panel to create colored cardstock and die-cut your other pieces for the design. The beauty of this is you get a guaranteed color match! Also, I blended ombre ink for the smaller lacy piece to help it stand out on the white diamond area.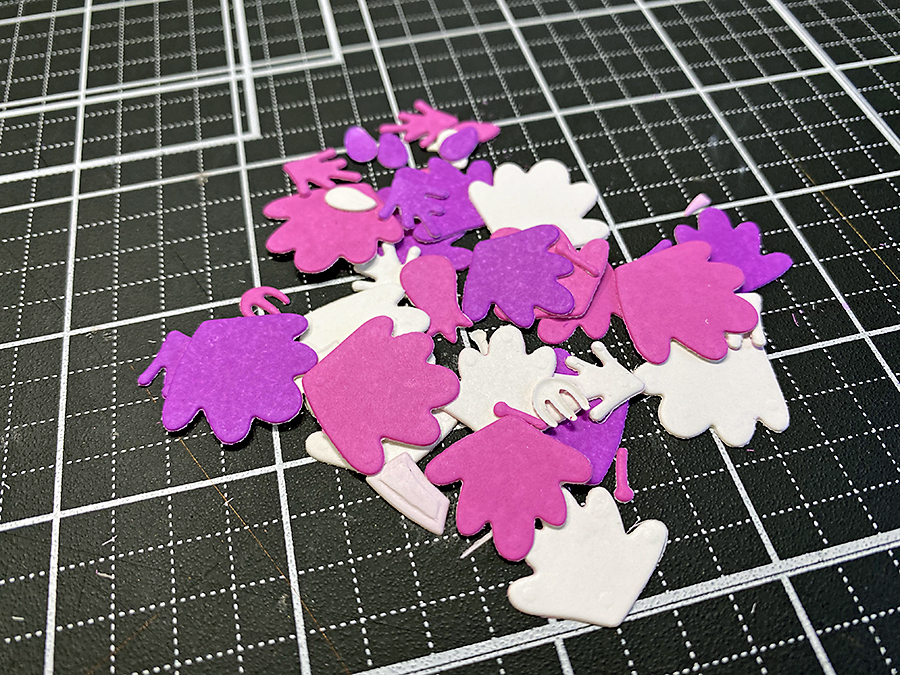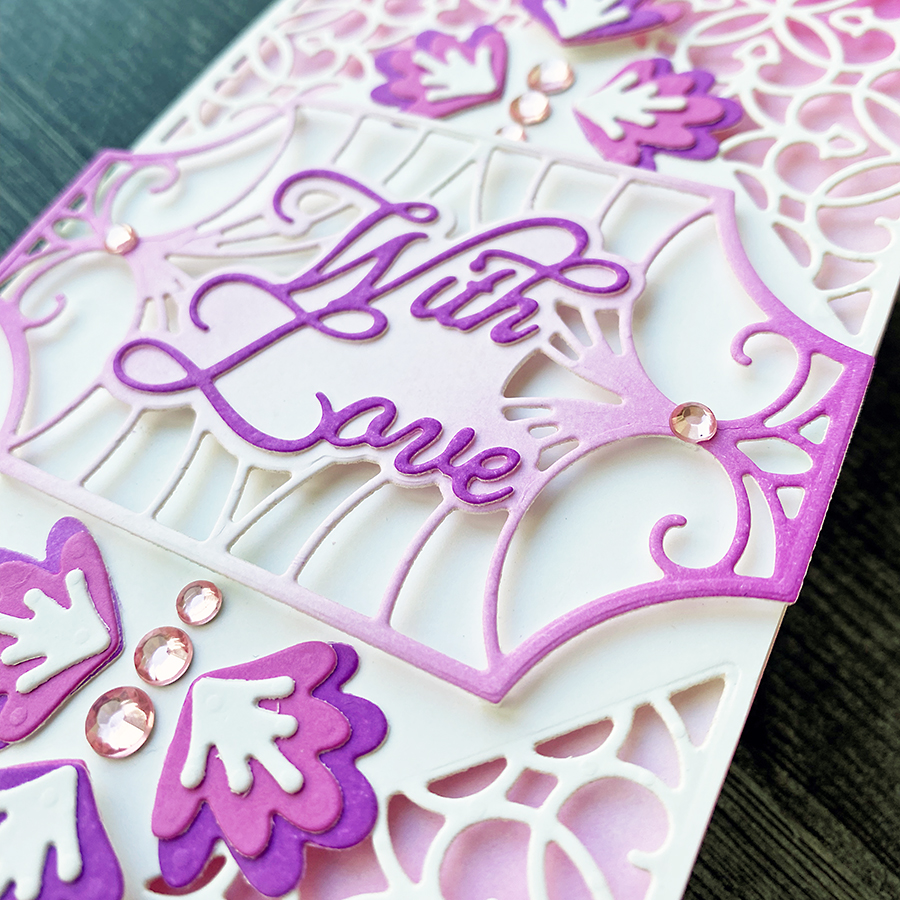 Next, start adhering the layers of your card front with foam squares. Additionally, to keep the edges secure, snip a few little tiny bits from the foam and strategically place them around the card.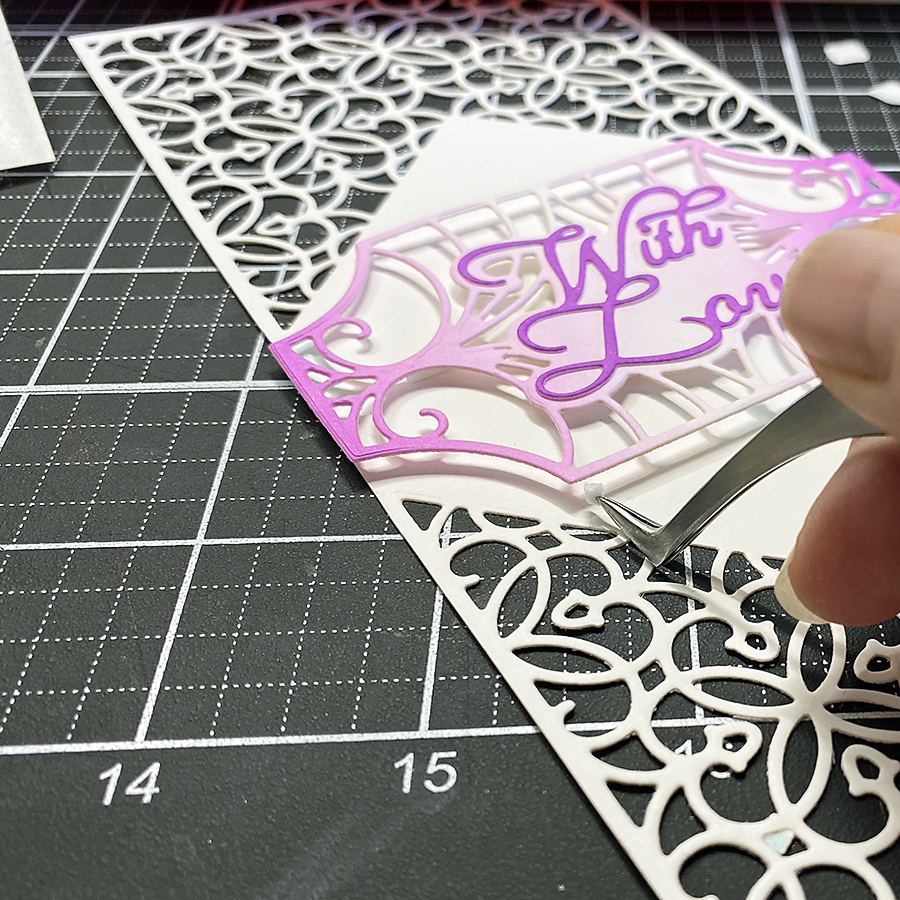 By the way, those tweezers are my favorite tweezers in the whole wide world. I've had them for 12 years, and they have done everything from delicate quilling pieces to rebending a damaged steel die.
10/10 would recommend.
Anyhow, once you have everything in place, glue together the flower pieces and position them on the card front.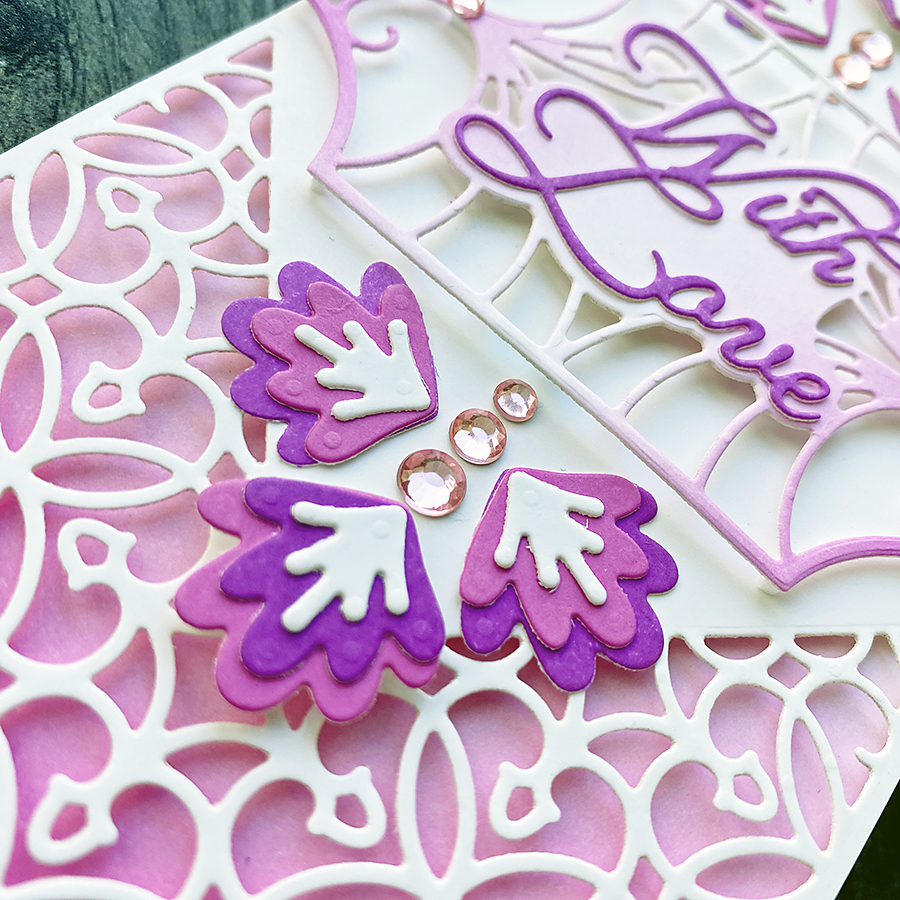 Finally, add the gems and the sentiment if you haven't already. Then, pop the completed card panel on your base and you're done!
Thank you so very much for hopping along with us today at the My Sweet Valentine blog hop! Now, head back to the CutCardStock Blog and upload your own Valentine creations so we can hop along with you!
Blog Hop List