Making Easy Card Backgrounds With Stripe Stamps
This post contains affiliate links. Read my full disclosure.
Stripes are my favorite pattern. Well, that and polka dots. Most of my closet is full of striped tops & shoes. They look so good with jeans, don't they? And jeans are my everyday uniform since I work out of the house nowadays. 
You know what else stripes look good on? Cards. I have a set from Whimsy Stamps called Get in Line, which I used today for both cards. That's right, I made two for you!
Happy Birthday
The first one is a striped birthday card. I used Classic Crest in Solar White for the card base as well as the triangle overlay (from Shaker Maker Pennant Flags). I love how this card looks like an envelope or collared dress!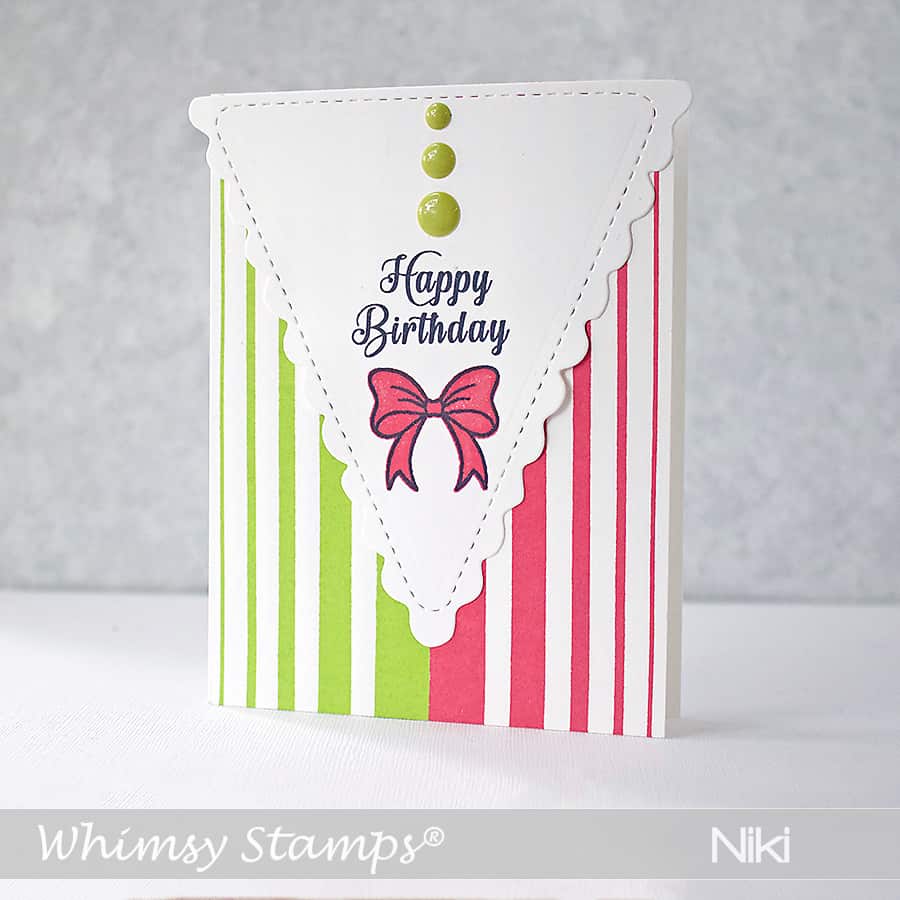 To make the striped background, I pulled off all the stripe images together (they are separate on the protective sheet) and lined them up inside a MISTI. 
Next, I flipped my card one way to stamp the stripes with VersaFine CLAIR in Glamorous, then cleaned them and flipped the card the opposite direction to stamp in Verdant. 
I layered the triangle pennant shape over the striped background with a bit of glue tape and stamped my sentiment and bow with black ink. Both images are from the Whimsy Stamps Elegant Gifts set. The bow itself is colored with a Copic R85 (Rose Red). 
Simply Wonderful
The second card is made in much the same way, except the thicker stripes are on the outer edges instead of the middle. Again, I used Classic Crest for the card base.
I kept the stripe stamps in the MISTI between projects, so I didn't need to reposition them. Then, I just stamped the images – straight on to the card base – with VersaFine CLAIR in Chianti on one side, and Golden Meadow on the other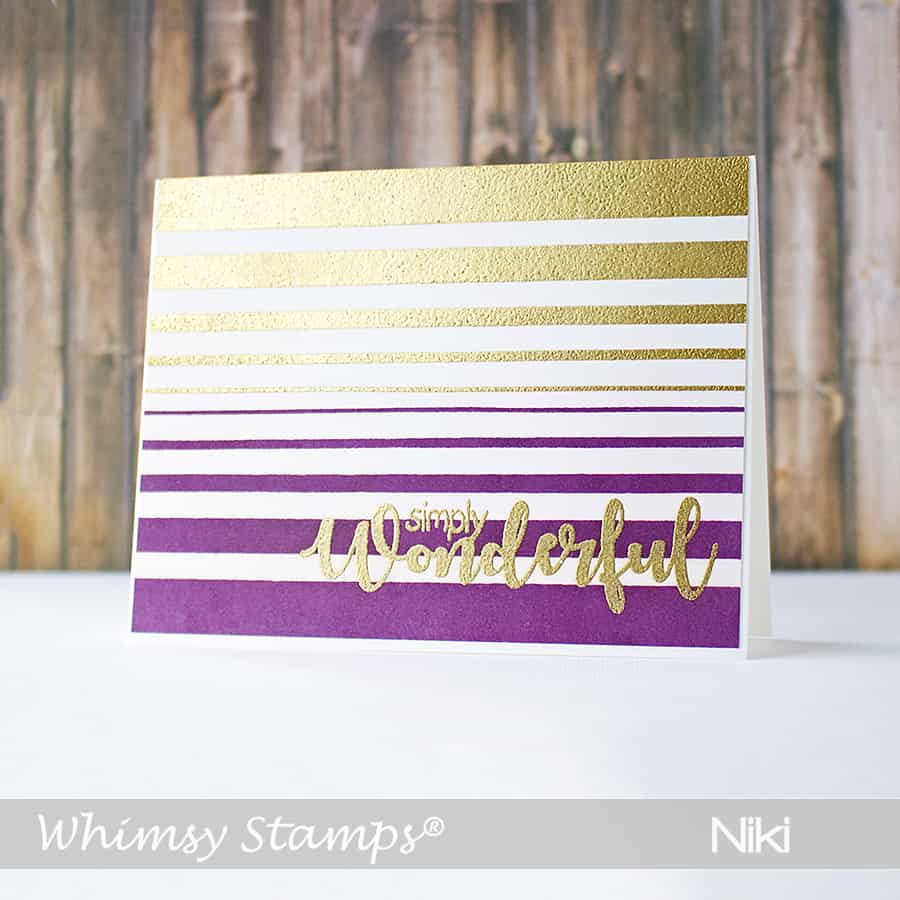 I used Golden Meadow to stamp the sentiment as well (after a heavy dusting of an anti-static pouch, since I was going to emboss), then covered all the yellow inked areas with Princess Gold embossing powder and melted it with a heat tool. 
Thanks for stopping in today to see my cards! If you like them, please share the love by pinning to Pinterest – I'd really appreciate it, thank you!
PS – Here is another card from way back that has a stamped background, too.
The links below are affiliate links to the products I used today. There's no additional cost to you, and if you decide to click and shop, I really appreciate the support! Thank you!