A Simple Father's Day Card
This post contains affiliate links. Read my full disclosure.
For Father's day, I made three cards – one from each of us to my husband. Normally I would make one card from us all, but this year I figured the kiddos are both old enough to write their own personal messages to their dad. It turned out better than I thought, too – both the boys wrote a really nice heartfelt note, which in turn made the hubs very happy.
The card I made for him was a little different than the usual Dad's Day card; our relationship is unique in many aspects (from how we met to the current cooking arrangements), so I wanted to say something different than the usual 'best dad ever' sentiment.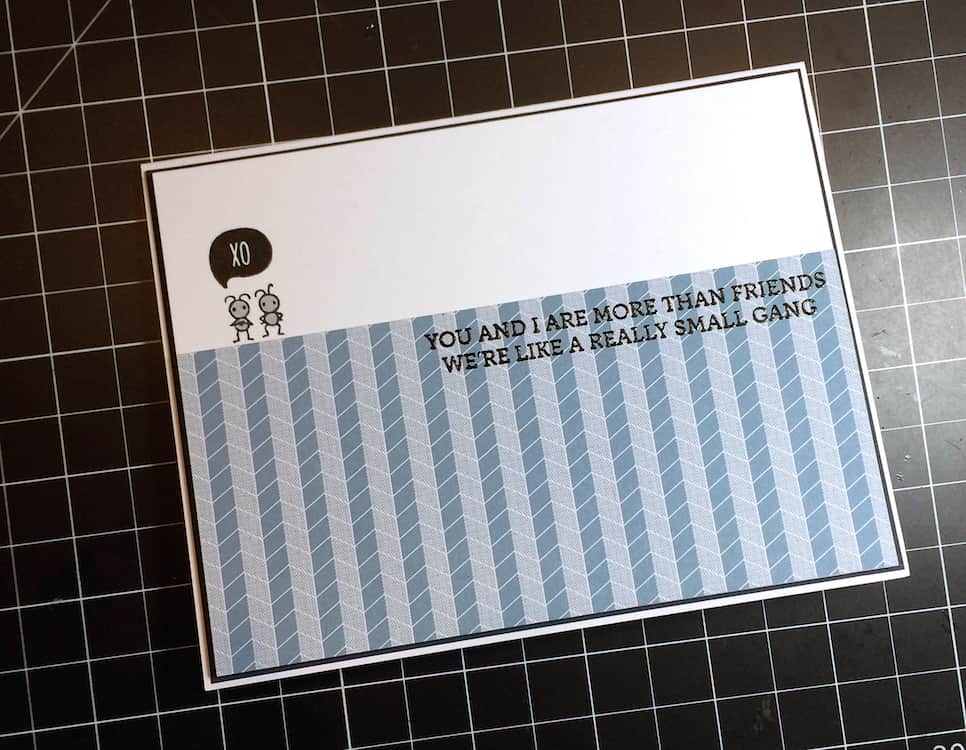 Plus, I really wanted to use that Mama Elephant stamp set. It's called Small Talk, and unfortunately, it's retired now. But you can sometimes luck out if you look around eBay.
So today's card is straightforward with no special techniques or embellishments. The hubs is a no-frills, meat and potatoes kinda guy, so I made it suit his personality. He likes geometric designs and clean lines, much like me.
I grabbed a sentiment from another one of my favorite stamp sets and stamped it on the patterned paper with Versafine Clair in Nocturne. Because it's a pigment ink, my black detail embossing powder stuck to it very well, and after cleaning up a few stray grains, I went ahead and heated it up.
From there, I adhered the patterned paper to my card base. I always like to heat emboss first and stick later, just in case I warped the paper. The adhesive helps to hold down any lumps and bumps 🙂
Happy Father's Day to all the dads, stepdads, granddads, and honorary dads out there!