Inspiration: Coloring to Stretch your Stamps
This post contains affiliate links. Read my full disclosure.
Changing up the coloring scheme of your stamp sets is an excellent way to "stretch your stamps" and get greater utility from them.
There is a set of stamps from Paper Smooches that I like. It's called Chubby Chum Pals. Little did I know when I bought it that I would use it so much! My original intention was for Christmas cards; it's something I enjoy doing every year. I thought the little guys in this set would be perfect for spreading some holiday cheer.
But, I found myself stamping this bird for several occasions and coloring it to suit my project. I think it's meant to be a cardinal, but with a little blue and green it makes a pretty good parakeet or budgie (or even a lovebird?).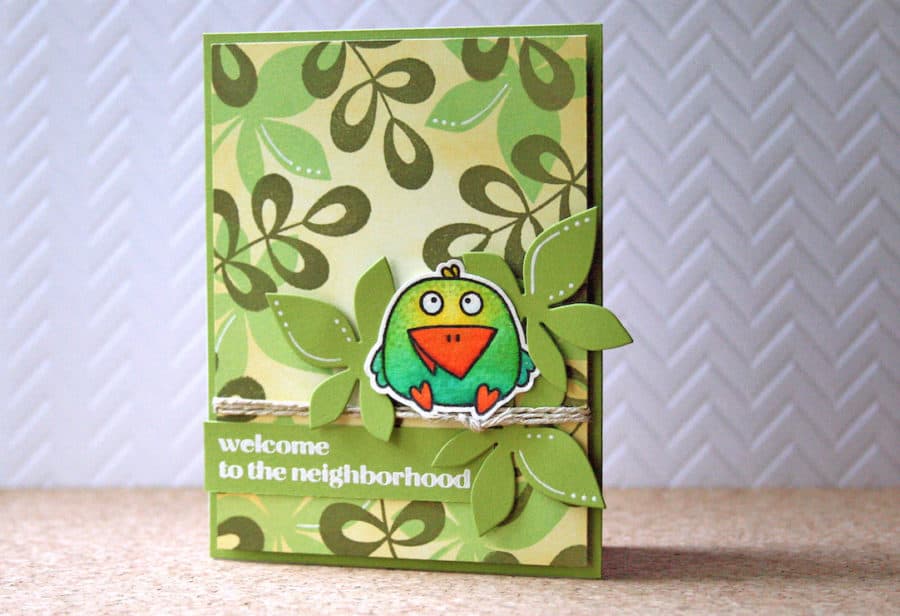 The background started out with a little Butter Bar ink, which I worked in from the edges. Then, I stamped the lighter green leaves. Next, I added the darker green leaves to give the background a little more of a layered look. And I pulled out a Signo pen in white to add the lines and dots. It helped to tie the sentiment and die cuts together.
For my birdie, I used Zig Clean Color brush markers to lay down a little color around the edges (where I would want shadows). Then, I blended it in toward the center with a water brush. A Copic marker that matched my paint colors worked well to add a few speckles. I also used a silver Gellyroll pen to add a little sparkle to his speckles. Everything needs a bit of glittery something, don't you think? 🙂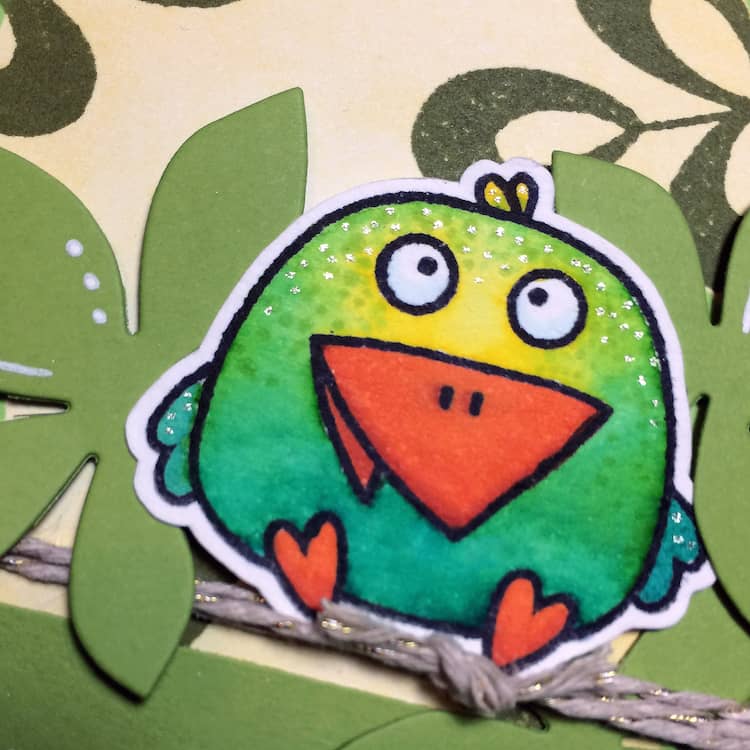 I didn't have the dies for the Chubby Chum Pals set so after stamping the bird and water coloring him, I fussy cut him out. The leaves are cut with the coordinating dies, and I used those to give my little birdie a place to sit with a few foam squares. To complete the leaves, I decorated them with my white pen.
Finally, to make the string stay in place, I notched the edges of my panel where I wanted it to be with a 1/16″ hole punch. After tying the twine, I popped my panel on a coordinating card base with foam tape, and my card was complete!
Thanks for stopping in to see how to stretch your stamps with a little coloring finesse! What do you like to color? Leave a comment below and let me know your favorite mediums!