Inspiration: White Die Cuts On a Painted Background
This post contains affiliate links. Read my full disclosure.
I love the look of white die cuts on a painted background. My cards are usually white with color designs added. Watercolor paint has caught my attention over the summer, though. I created a TON of backgrounds that are now stacked on my desk. I'm just waiting for them to tell me what to use them with, hah!
This card has an ombré style background that I created with my big wash brush.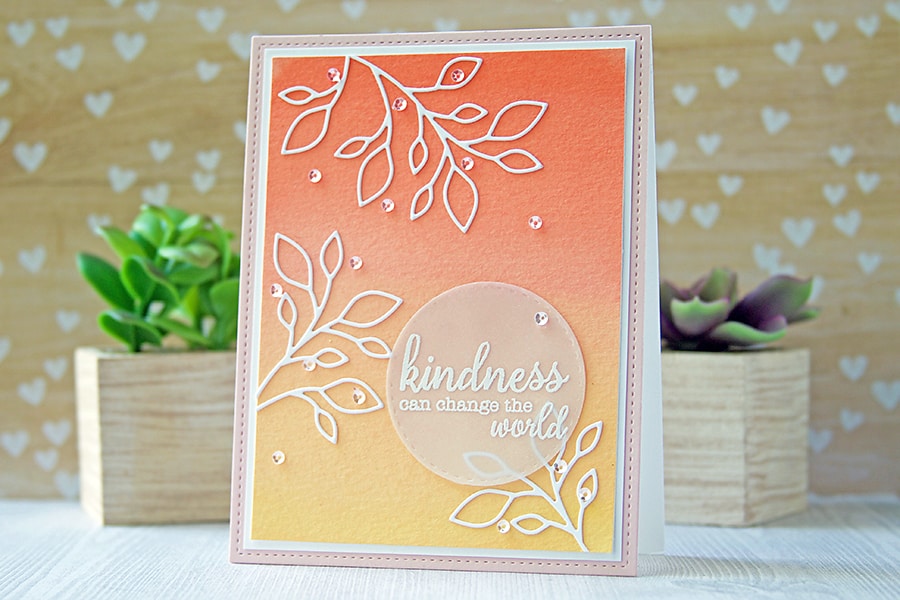 I started at the bottom with Kuretaki Gansai Tambi yellow paint and thinned it with water as I worked my way up the panel. I swept my brush from left to right only, painting stripes. By the time I got to the top, it was mostly clear water.
Then, I started at the top and worked my way back down with a bright orange color using the same method. You can see how nicely it blended in the center; that's because I kept the paper wet while I was working with it.
A tip for you from someone who's tried several different papers: go ahead and splurge on the good quality watercolor paper – I like Arches – especially if you're new to painting with watercolors. It's a little more expensive but completely worth it.
Good watercolor papers stay wet much longer than your local Giantmart brands, so the colors blend much easier. You'll thank me.
After I had dried my panel with my heat tool, I glued on my die cuts and my heat embossed sentiment. To keep the vellum circle on my card without the adhesive showing, I put a dot with some clear gel tacky glue under the sequin 🙂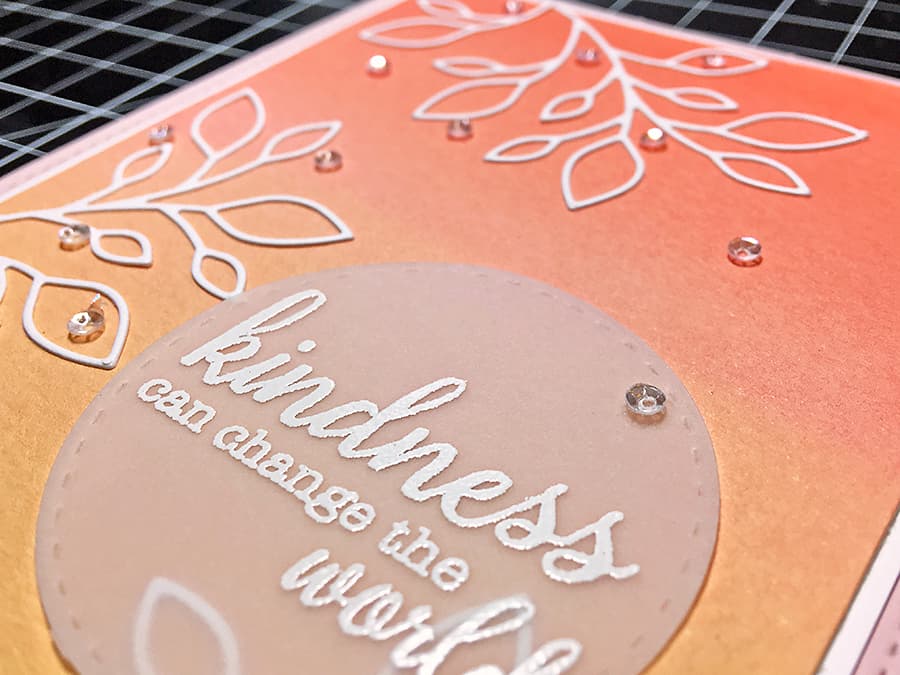 And To make sure the vellum didn't wiggle around, I used a very tiny amount of gel tacky glue dabbed under the 'K' and 'L' to keep the circle still.
Thanks for stopping by to check out what I did with white die cuts on a painted background! Do you paint? Leave a comment below and tell me what kind of paint is your favorite!