Inspiration: Clean and Simple Die Cut Floral Tag
This post contains affiliate links. Read my full disclosure.
I recently discovered a blog that posts clean and simple tag challenges! It's called "Tag You're It!" Pretty neat, huh? I decided to make a floral tag and post it to Challenge #26. The inspiration tag is created by Marybeth Lopez: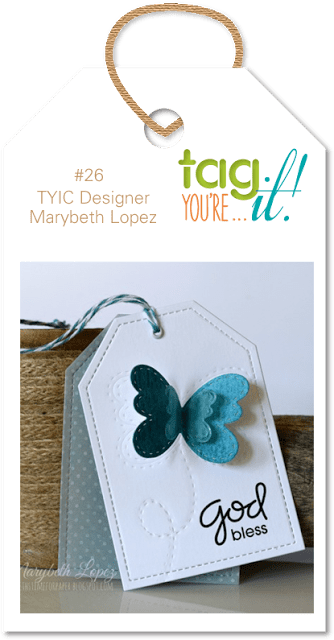 I loved the three-dimensional butterfly, so this is what I pulled my inspiration from. I didn't realize I had used the same tag die as in the photo until I was taking my own pictures! Oops 🙂
I have a set of flower dies (Partial Cut Flowers) from Simon Says Stamp that cut only the petals when you run it through your die machine; the centers stay uncut, so you can lift up the petals from your background.
These dies were the first thing that came to my mind when I was deciding on my layout.
Well, maybe the second thing… butterfly dies are somewhat scarce in my Craftbox.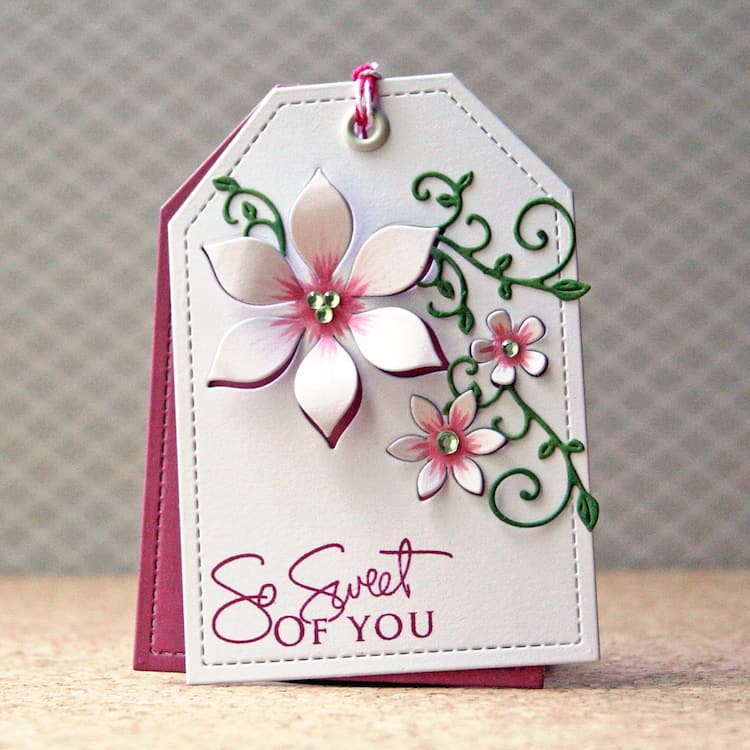 First, I cut out the tags and stacked them together, punched the hole, then set the pink tag aside. On the white tag, I laid out where my flowers were going to go and die cut them in one pass.
Next, I die cut the tiny vines out of white cardstock and colored them by dabbing with a Copic marker (YG67, Moss).
Then, I used R0000 (Pink Beryl) for the overall color of the petals, then flicked out some R81 (Rose Pink) from the center, and finally a few flicks of R85 (Rose Red) to deepen the color.
A needle quilling tool lifted and slightly curled the petals, then I tucked the vines underneath with a dab of tacky glue.
Finally, I stamped my sentiment, added a few gems to the flower centers, and stacked my tags together again to set the eyelet.
Those of you who know me know I don't do eyelets very often – I think I press too hard or something, but I always manage to smash them into an ugly mess, or they are so loose they drive me crazy. I managed to get one in my tag AND not mangle it.
Proud of me, I am.
Thanks for stopping by to take a look at my floral tag! What do you like to die cut? Leave a comment & let me know!